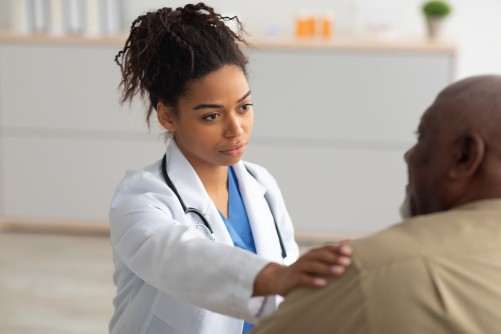 By Newswise
African Americans and Hispanics face a higher risk for Alzheimer's disease than whites in the United States, but the reason may not be solely race or ethnicity, new research shows.
Instead, those minority groups are more vulnerable because of lifelong inequities in socioeconomic factors such as income, health insurance, and access to medical care that lead to an accumulation of vascular risk factors in midlife and late life, including diabetes, hypertension, and obesity.
These vascular risk factors then place older African American and Hispanic adults at nearly twice the risk of Alzheimer's disease compared to white Americans, according to a University of Miami Miller School of Medicine study published by the Journal of Alzheimer's Disease.
The research was led by James E. Galvin, M.D., M.P.H., a professor of neurology, psychology, and behavioral sciences and founding director of the Comprehensive Center for Brain Health at the Miller School. An article detailing the investigation, titled "Exploring Reasons for Differential Vulnerability and Alzheimer's Disease Risk in Racial and Ethnic Minorities," is set to appear in the print version of the Journal of Alzheimer's Disease in January.
Dr. Galvin's team examined data collected in public housing, churches, and community centers in New York from 2010 to 2015 in 300 people, about one-third of them white, Hispanic, or African American. They then applied a new tool that Galvin and his team created, called the Vulnerability Index, to that data set to try to understand the risk disparities for Alzheimer's among the groups.
"On first pass, we found that one reason that African Americans and Hispanics were at a higher risk is because they had much, much more vascular risk than whites," said Dr. Galvin. "But when we broke data down by socioeconomic status, those differences disappeared. So, that showed us something interesting: Lifelong, people with less resources and poorer access to care accumulate vascular risk factors, which put them at higher risk for Alzheimer's."
Poverty, Lack of Access to Care Over a Lifetime
Simply put, poverty proved the underlying determinant of disparities, not race or ethnicity, the data showed. Because poor people have less access to health care, education, healthy food, and other resources throughout their lives, they're more likely to develop obesity, frailty, diabetes, hypertension, high cholesterol, and other vascular risk factors that boost their chances for Alzheimer's in their later years.
"If you were white and poor, you had the same risk factors that are accumulating as African Americans. And if you were financially well off and Black or Hispanic, you had less risk, because it has to do a lot with what was occurring in early and midlife," said Dr. Galvin. The key to Alzheimer's risk, the researchers found: "What are the resources available to you over the entire course of your life, and how does that set you up for a disease in late life?"
"This is a compound problem," said Dr. Galvin. "There are social determinants and medical determinants, and if you think about one without the other, you're never going to be able to address the problem."
Miller School post-doctoral research fellows Michael J. Kleiman, Ph.D., and Valerie Daniel, Ph.D., collaborated on the study. Dr. Kleiman, whose work involves data science, applied an equation from organic chemistry on enzymatic reactions to the data set to test for the impact of poverty and other variables on Alzheimer's risk, said Dr. Galvin. Using this novel approach, Dr. Kleiman was able to demonstrate that vascular risk factors accelerated cognitive decline in older African American and Hispanic adults but did not have the same effect in older white adults.
Dr. Daniel, a public health specialist, hopes the research can bring more attention to health disparities and ways that different racial and ethnic groups experience and access health care. "I believe the lack of equity impacts the health and well-being of all," she said.
To reduce Alzheimer's risks for Black and Hispanic people, and the poor more broadly, Dr. Galvin suggests both medical and social approaches. Medically, there's an opportunity to work on health promotion: encouraging people to stop smoking, eat healthier, exercise more, and diversify their exercise, for example. Socially, communities can focus on issues like building supermarkets in poor neighborhoods, so residents have better access to fresh food and diverse foods at accessible prices. Urban planners can also look at ways to build what Dr. Galvin calls "brain-healthy cities."
Ultimately, Dr. Galvin, Dr. Kleiman, and Dr. Daniel agree that "we need to improve access to care for our most vulnerable communities in early life to reduce the risk of diseases like Alzheimer's disease in late life."
Comments
comments