Border Patrol agents arrest rideshare passenger suspected of smuggling fenta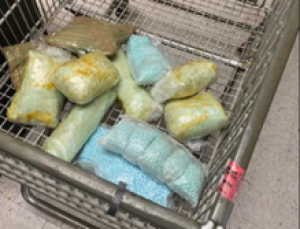 By SDCN Editor
Indio, CA–A female rideshare passenger was arrested for attempting to smuggle fentanyl through the U.S. Border Patrol checkpoint Saturday morning, El Centro Sector Border Patrol said.
The incident occurred around 9:35 a.m. when a red sedan containing a driver and one passenger approached the U.S. Border Patrol's Highway 86 immigration checkpoint. A K-9 unit conducting a non-intrusive sniff of the vehicle's exterior alerted the trunk. The driver was directed to a secondary inspection area for further examination.
In the secondary inspection area, the driver said he was employed as a rideshare driver and that he was providing a transportation service for the 18-year-old woman U.S. citizen passenger. As the driver and passenger exited the vehicle, the K-9 unit again alerted to the trunk.
During a subsequent examination of the trunk area, Border Patrol agents discovered 11 clear plastic bags each containing blue pills. The pills tested positive for fentanyl. Each of the plastic bags was discovered inside of larger travel bags suspected to belong to the passenger.
The passenger and fentanyl were turned over to the Drug Enforcement Administration for further processing and investigation.
The total weight of the fentanyl was 14.54 pounds with an estimated street value of $164,750.