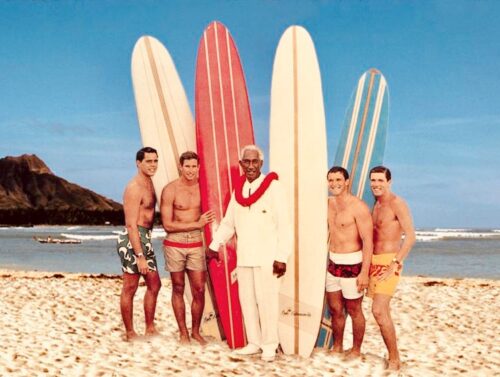 By SDCN Editor
Oceanside, CA–The California Surf Museum will honor four legendary surfers who were charter members and ambassadors of the father of surfing, Duke Kahanamoku.
The honorees, Joey Cabell, Fred Hemmings, Paul Strauch Jr., and Butch Van Artsdalen have been named 2023 recipients of the museum's "Silver Surfer Award," a lifetime achievement award presented annually to surfers who have made significant contributions to the culture and lifestyle of the surfing community, Jim Kempton, president of the California Surf Museum Board of Directors stated in a news release.
"Duke Kahanamoku was not only celebrated as the father of modern surfing but is recognized as one of the greatest sports figures of the 20th Century," said Kempton. "He was also Hawaii's Ambassador of Aloha spreading its message of peace, unity, humility, and kindness around the world. In the latter part of his life, he decided to enlist a select group of four top surfers to join him in touring the world promoting surfing and the spirit of Aloha." 
Three of the surviving members of Kahanamoku's team will receive their awards at the museum's annual gala in November. Butch Van Artsdalen, who passed away in 1979, will be awarded posthumously."
The "Silver Surfer Award" is an honor bestowed annually by the California Surf Museum to surfers who have made significant contributions to the culture and lifestyle of the surfing community. It is a lifetime achievement in recognition of a life that inspires others. This year's recipients will be presented with their award at the museum's 15th annual Gala Fundraiser at the Cape Ray Hilton Resort in Carlsbad on November 4. 
Hawaii's Joey Cabell, the co-founder of the Chart House restaurant chain, is recognized as one of the finest all-around surfers of the '60s and one of the decade's best and most accomplished competitors, be it the biggest of waves or small, hotdogging surf. He captured numerous surfing titles, the 1969 Duke Kahanamoku Invitational among them. He also has appeared in more than a dozen surf movies including Bruce Brown's classic "The Endless Summer. The ultimate renaissance man, he is an expert canoe sailor, open-ocean catamaran racer, sailor, and skier. In 1985, Surfer magazine named him as one of "25 Surfers Whose Surfing Changed the Sport."
Fred Hemmings was born and raised in Honolulu and has enjoyed a long career as an award-winning surfer, event promoter, and Hawaiian political figure. Hemmings is a four-time winner of the Makaha International Surfing Championships and, in 1968, a winner of the World Surfing Championships held in Rincon, Puerto Rico. Among his many honors is his induction into the International Surfing Hall of Fame in 1991. As a promoter, he founded the Pipeline Masters in 1971 and, in 1983, created Hawaii's Triple Crown of Surfing. Beginning in 1984, Hemmings has held various Hawaii state-elected positions, including serving as Senate Minority Leader from 2002 to 2010.
Paul Strauch Jr., a native Hawaiian who grew up in Honolulu, is considered one of the most influential figures in the 60s era. Born and raised in Honolulu, his free surfing versatility and mastery of the waves is demonstrated by his creation of the nose-riding stance known as the "cheater five," and is known as the first surfer to do bottom turns in big surf. He also, at the age of 16, won the juniors division of the 1959 Makaha International. For 14 years he served as president of the Hawaiian Surf Club based at San Onofre State Beach. Paul served on the Board of Directors for the San Onofre Foundation and was the Executive Director of the Surfing Heritage and Cultural Foundation.
Butch Van Artsdalen was a uniquely gifted athlete whose skills earned him a varsity letter in baseball, basketball, football, and track at La Jolla High School. But it would be self-expression afforded by surfing that drew him to focus his talent and energies on wave-riding. He moved to Hawaii after graduation to pursue a professional career. By 1964, Van Artsdalen was ranked in a Surfer Magazine Poll as among the world's best surfers. He was among a handful of surfers to first master the powerful, hollow waves at the Banzai Pipeline. Van Artsdalen was a charter member of the Windansea Surf Club which, since 2007, has held an annual Memorial Paddleboard Competition in his name. In 1969 he returned to California where he won the 34th annual Stone Steps Invitational Surf Contest in Encinitas. Back in Hawaii, he became the first lifeguard assigned to Pipeline and, along with Eddie Aikau, one of the first lifeguards on the North Shore. He is credited with saving countless lives during his service. Van Artsdalen passed away on July 17, 1979, at age 38. His fellow Duke Kahanamoku Surf teammate, Fred Hemmings, helped organize a memorial service on the beach at Pipeline in celebration of his life.
The California Surf Museum, a nonprofit organization based in Oceanside, was founded in 1986 and has been in operation for over three decades serving tens of thousands of annual visitors from over 40 nations around the globe. With a permanent collection that chronicles the history of surfboards and wave-riding, the museum also offers many revolving exhibits each year. In its current museum-quality space, it has acquired a rare set of archives and collections gathered over more than 30 years, comprising one of the world's richest troves of surfing history.
The museum serves as an international repository and resource center on the lifestyle sport of surfing by capturing, preserving, and chronicling its art, culture, and heritage for the education and enjoyment of current and future generations. It is located at 312 Pier View Way in Oceanside.  
For more information on the museum, visit surfmuseum.org. 
Comments
comments