County breaks ground for new park in Fallbrook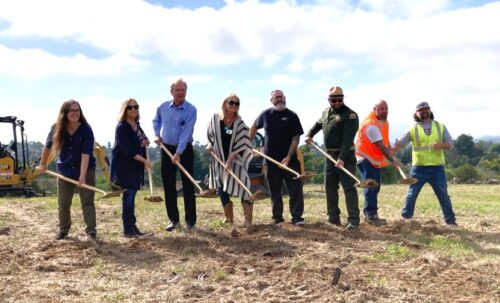 By SDCN Editor
Fallbrook, CA–County of San Diego officials joined residents for a groundbreaking ceremony of a new 6.7-acre park on Thursday in Fallbrook.
The Village View County Park will be open from sunrise to sunset seven days a week and access will be free to the community.
The park will feature an all-wheel park or skatepark, shaded picnic, and play areas, a multipurpose field, a walking trail, nature trails, a native plant garden, a 60-space permeable parking lot, bike parking, and separate off-leash zones for small dogs and large dogs, county officials said.
Other amenities at the park will include an ADA-accessible restroom and a combined drinking fountain and water bottle filling station. 
The new skate park will include stairs, a bowl, quarter pipes, rails, kickers, and wedge ramps for beginners and seasoned skaters.
Prior to the groundbreaking of the park, County park officials held public meetings with residents, planning groups, and focus groups for input on the park's design. 
"I want to thank the incredible residents of Fallbrook and our County parks team for making this vision a reality. Your unwavering support and enthusiasm have paved the way for a brighter, greener future. It is vital the community has a safe place where our children can play, our parents can enjoy a picnic in the shade, and where we can all take a stroll on a nature trail to enjoy some peace and quiet in a chaotic world," said County Supervisor Jim Desmond. "This land is now public park land. It's yours, it's mine – it's ours in perpetuity."
"Personally, I would just like to say thank you to everyone who has been a part of the process up until now," said County Parks and Recreation Director Brian Albright. "It's great to see so many people so passionate about building a new park."
The County park will be built one block away from the Fallbrook Community Center allowing the two locations to coordinate community events. The site was also chosen because it's close to local schools and the downtown area, County officials said.
A grand opening is expected in spring 2025.