County launches new program to remove graffiti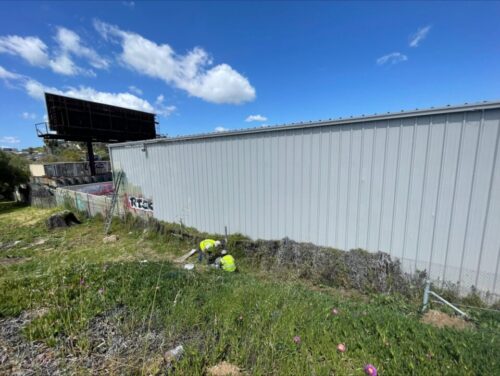 By County News Center
San Diego, CA–A new County program now in place allows San Diegans in the county's unincorporated area to remove unwanted graffiti from their property free of charge.
The County Board of Supervisors approved the initiative in January. The first graffiti abatement occurred last week when contractors removed extensive graffiti damage from the side of a building along Campo Riad in Spring Valley.
The previous policy required the property owner to pay graffiti removal costs. Under the new program, residents in the unincorporated area can schedule the graffiti removal through the County, and a contractor will remove the unwanted graffiti free of charge.
The initiative aims to beautify the region without placing a financial burden on property owners. Close to 90 percent of graffiti cases are reported in areas of the region where residents often struggle to pay the removal cost.
Residents can report a graffiti issue in the unincorporated area by downloading the Tell Us Now App from the Google Play Store or Apple Store. They can call the 24/7 hotline at (858) 694-2705, or email CodeCompliance@sdcounty.ca.gov.
Residents can also report the issue in person at the County Operations Center at 5510 Overland Ave., Suite 300 in San Diego.
Comments
comments