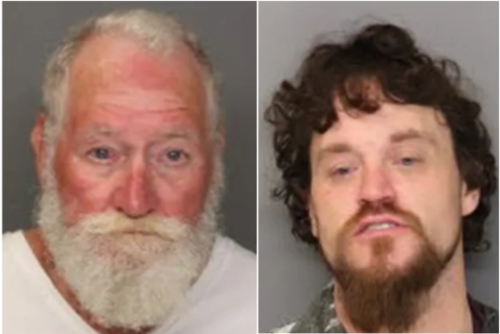 By Gina Yarbrough
El Cajon, CA–The El Cajon Police Department is seeking the public's assistance in identifying victims related to the sexual molestation of underage females that occurred at a Motel 6 in El Cajon, authorities said
On March 17, an employee of People Assisting The Homeless (PATH), a service provider in San Diego, called the El Cajon Police Department to report suspicious circumstances involving their client. The PATH employee met with the client, identified as 34-year-old Lawrence "Larry" Cantrell, at Motel 6 on Montrose Court. Cantrell told the employee, he and a friend had sexual contact with a minor while staying at the motel, and he had a recording of the incident on his cell phone. Cantrell was staying at Motel 6 through PATH and has been paying for his room there for the past 5 to 6 days. Per the employee, Cantrell was at the motel because he was kicked out of his previous motel in San Diego for causing a disturbance. PATH has contracts with the County of San Diego, the City of San Diego, and other agencies to provide homeless outreach. Cantrell is a convicted felon and a sex registrant. He wears a GPS- monitored ankle bracelet through San Diego County Probation, El Cajon Police Lt. Jeremiah Larson stated in a news release.
Officers responded to the motel and spoke with Cantrell, who admitted to having sexual contact with a girl he believed to be minor. Cantrell told officers he met his friend, 70-year-old Michael Inman, a convicted felon, and a sex registrant through PATH while staying at the Days Inn hotel on Ash Street in San Diego. 
Cantrell claimed Inman brought a young girl whom Cantrell believed to be a minor, to his room. Cantrell questioned the young girl about her age multiple times because he believed her to be a juvenile. Cantrell told officers the young girl claimed to be an adult. After a short conversation, he sexually assaulted and molested the minor. Afterward, Cantrell and Inman engaged in sexual activity with each other. Cantrell learned that Inman had an explicit video of the minor from inside the motel room on his cell phone, so Cantrell sent the video from Inman's phone to his own cell phone. Cantrell turned his cell phone over to officers and they confirmed Cantrell had a sexually explicit video of what appeared to be a juvenile female with Inman. Officers seized Cantrell's phone. He also provided officers with identifying information on Inman. 
Officers located Inman at the Days Inn motel. They learned Inman is currently on parole and is a sex registrant through the California Department of Corrections. Inman admitted to officers that he had the sexually explicit video on his phone, admitted that he knew the female in the video was a minor, and that he and Cantrell engaged in sexual acts with the minor in Cantrell's room at Motel 6. Inman described at least two additional juvenile girls that he and Cantrell had sexual contact with in Cantrell's room during the past week at the motel.
Cantrell was arrested on drug-related charges, and Inman was arrested on a parole violation, and for possession of child pornography. Both men were booked into San Diego Central Jail. 
El Cajon Police detectives are investigating the case. 
The El Cajon Police Department is attempting to identify potential victims of Cantrell and Inman. 
Anyone with information related to the incident at the motel is urged to contact the El Cajon Police Department at (619) 579-3311
Comments
comments