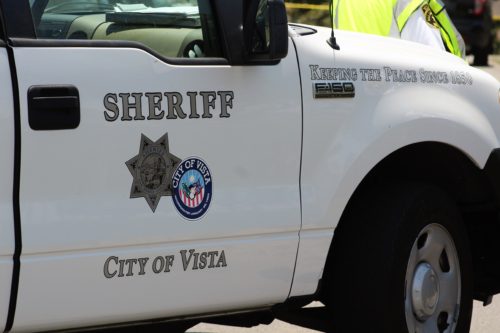 By Gina Yarbrough
Vista, CA–Authorities continue their search for a man suspected of a domestic violence incident on Wednesday in Vista, the San Diego County Sheriff's Department said.
Sheriff's deputies responded to a 9-1-1 call from a woman who reported her estranged husband had hit her and threatened her with a gun at her home in the 300 block of Apollo Drive.  
When deputies arrived on the scene, they contacted a man and woman outside the house. The man immediately ran back inside. Deputies surrounded the house and safely evacuated other family members in the home. 
While continuing to investigate the circumstances surrounding the incident, deputies learned the man was wanted on various gun charges. 
Deputies attempted to de-escalate the situation by contacting the man several times to reach a peaceful resolution, but he did not respond. The Sheriff's Special Enforcement Detail conducted a search of the home, but the man was not inside. Deputies did locate a gun. 
The man has been identified as 50-year-old Walter Kuchinsky. He is described as white, height approximately 6'1″ tall, and weighs 180 pounds. He has brown hair and hazel eyes. He was last seen wearing a hat, a red and black flannel shirt, and khaki pants. He is known to frequent the areas surrounding North Santa Fe Avenue and Bobier Drive in Vista. Kuchinsky is considered armed and dangerous. 
Anyone who sees him, should not approach him. Call 9-1-1. 
Anyone with information about Kuchinsky's location is urged to call the Crime Stoppers anonymous tip line at (888) 580-8477. You could be eligible for up to a $1,000 reward leading to an arrest. 
Comments
comments