Feeding San Diego receives grant from USS Midway Foundation for meals to military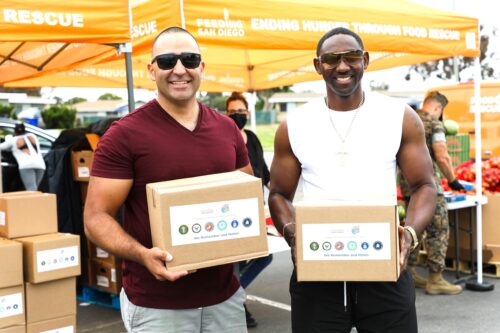 By SDCN Editor
San Diego, CA–Feeding San Diego, a partner food bank of Feeding America, has received a Pillars of Freedom grant from the USS Midway Foundation to continue its work of providing meals at no cost to the military community. 
The $25,000 grant will help fund the organization's Feeding Heroes initiative, which encompasses programs that meet low-income military families and veterans in convenient, comfortable locations to provide free, nutritious food. By operating its own direct program sites and providing food to agency partners embedded in the military community, Feeding San Diego is directly impacting members of the community of 115,000 active-duty service members, as well as the 260,000 military dependents, stationed in San Diego County. 
"Ensuring the basic needs of our military families are met is a priority to the USS Midway Foundation. Feeding San Diego's programs do exactly that – with an outreach that is impressive and helps fill the void of food insecurity issues," said Laura White, president of the USS Midway Foundation. "We are proud to have Feeding San Diego as a partner in our mission to support our heroes." 
Some of the reasons military families face hunger include the fact that service members are paid lower salaries at lower ranks, the high unemployment rates for military spouses, and the high cost of living near military bases. Since 2018, the Feeding Heroes initiative has been a core initiative of the hunger relief organization. According to Feeding America, 24 percent of active-duty military households across the country experienced food insecurity in 2020. When it comes to veteran and military families, Feeding San Diego has a special responsibility because according to the San Diego County Office of Military and Veterans Affairs, our county has the second largest veteran population in the state, with 230,000 veterans and 580,000 family members of veterans.  
"As a veteran myself, the Feeding Heroes initiative is a top priority of mine," said Bob Kamensky, interim CEO of Feeding San Diego. "While the families of military members stationed in this area do not necessarily choose where they live, they face the reality of San Diego's high cost of living. This results in military households experiencing food insecurity across the county, particularly near bases." 
Many military families aren't eligible for food assistance programs, including public benefits such as CalFresh, the California version of the federal Supplemental Nutrition Assistance Program because the housing allowance many military families receive to help make housing more affordable is considered income. Unfortunately, this additional income disqualifies many families from federal food assistance programs. To help support these families, the Feeding Heroes initiative reaches military and veteran communities through multiple programs operated by Feeding San Diego. This includes the agency partner program, which allows the organization to provide nutritious food to local nonprofits that work in the military community; as well as the school pantry program, which provides nutritious meals to schools with high enrollment rates of military families; and the produce pantry program, which distributes fresh produce at sites across the county, including one on Camp Pendleton.