Man arrested for possessing ghost gun during a traffic stop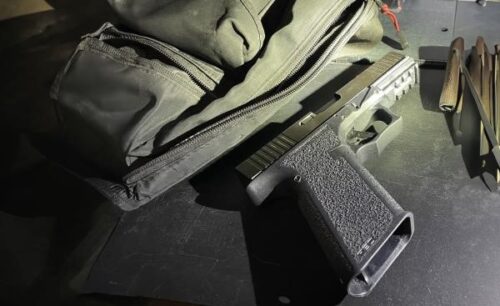 By Gina Yarbrough
Visita, CA–A man is facing multiple charges after a ghost gun was found in his possession during a traffic stop by Sheriff's deputies on Thursday in the north county, authorities said.
The incident occurred just before 10:30 a.m. in the 700 block of North Santa Fe Avenue in Vista. 
Deputies with the Vista Sheriff's Station Gang Enforcement Team conducted a traffic stop on a man for not having a license plate on his motorcycle.
The man pulled over but ran inside a restaurant to avoid the deputies. He was located and taken into custody without incident. Deputies found a ghost gun in his possession and a loaded magazine. 
According to the Sheriff's Department, unlike legal firearms, ghost guns are not marked with serial numbers. There is no way to track their origins or their owners making it harder for law enforcement to investigate or solve a crime.
Alan Altamirano 19, was booked into the Vista Detention Facility on charges of possessing an illegal firearm and ammunition, resisting an officer, and carrying a concealed weapon. He is free on a $50,000 bail, Sheriff's Office Sergeant Seung Park stated in a news release.
This year, deputies at the Vista Sheriff's Station confiscated 21 ghost guns. Approximately 15 of those seizures were made by the Gang Enforcement Team.