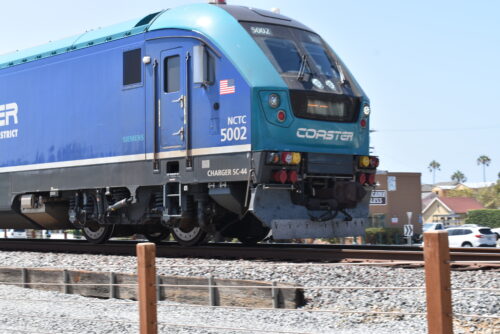 By SDCN Editor
Oceanside, CA–The North County Transit District and San Diego Association of Governments Monday announced the award of a $100 million grant from the State of California Transit and Intercity Rail Capital Program to advance Phase II of the San Dieguito Bridge Replacement, Double Track, and Special Events Platform Project. 
The project will replace a 107-year-old bridge in Del Mar, add 0.9 miles of double track in the area, and construct a special events platform at the Del Mar Fairgrounds. This project makes needed improvements to the Los Angeles-San Diego-San Luis Obispo intercity rail corridor, which is the second busiest rail corridor in the nation. 
The transit district and SANDAG received the largest award from the California State Transportation Agency from this cycle of the Intercity Rail Capital Program, The award enables both agencies to leverage additional federal investment for the completion of the project.  
"Replacement of this 107-year-old bridge is critical to ensuring the region's transportation network is resilient to the impacts of climate change and rising sea levels," said North County Transit District Board Chair Jewel Edson. "Additionally, adding capacity-enhancing double-track in the area and a special events platform will increase NCTD Coaster and Amtrak Pacific Surfliner ridership."   
"This funding will help safeguard rail travel through North County," said California State Senator Catherine Blakespear (SD-38). "By also extending rail to the Del Mar Fairgrounds with the construction of station platforms, the project funded by this award will improve regional transportation and options for commuters." 
The San Dieguito Bridge Replacement, Double Track, and Special Events Platform Project will replace the San Dieguito River Railway Bridge, which is approaching the end of its useful life. Double tracking through this area and construction of the special events station platform at the Del Mar Fairgrounds will add capacity to support increased intercity rail frequencies and provide a one-seat ride to popular attractions such as Del Mar Thoroughbred Club races, the San Diego County Fair, concerts, and other events that attract visitors throughout San Diego and the Southern California region.  
The LOSSAN Corridor supports Coaster commuter rail, Amtrak Pacific Surfliner intercity rail, and BNSF freight operations. SANDAG has completed environmental clearance and design work on the project.  
"The San Dieguito Double Track project is a priority for us, and it will bring safety and reliability to the entire LOSSAN corridor. Through SANDAG, we are able to leverage these critical investments in infrastructure for our local cities," said SANDAG and San Diego County Board of Supervisors Chairwoman, Nora Vargas.
At current service levels, the Coaster reduces vehicle miles traveled in the region. Increased service frequencies afforded by this project will enhance national priorities to improve the movement of freight, reduce vehicle miles traveled, support climate action, create jobs, foster social equity, and provide mobility. SANDAG plans to fully double-track the LOSSAN corridor by 2035 to accommodate future demand with faster and more frequent train service.  
Comments
comments