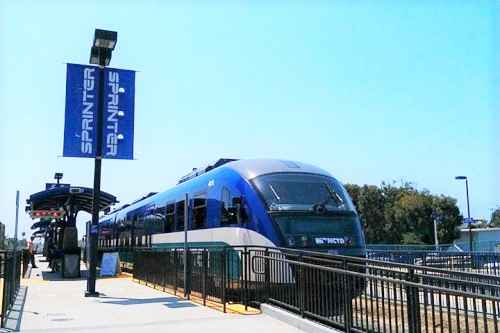 By SDCN Editor
Oceanside, CA–The North County Transit District (NCTD) announced the appropriation of $7 million in the Fiscal Year 2023 Community Project Funding for its Sprinter Corridor Service Improvement Project. 
The funding, which was requested by Congressman Mike Levin (CA-49), will allow NCTD to further the modernization of signals on the Sprinter corridor, an initial phase of the multi-year Corridor Service Improvement Project. The project seeks to increase the speed and frequency of Sprinter service with the ultimate objective of reducing the time between departures from every 30 minutes to every 15 minutes.
"The Sprinter Corridor Service Improvement Project will transform North County's east-west rail corridor by increasing the speed, frequency, and reliability of the Sprinter," said NCTD Executive Director Matthew O. Tucker. "This funding to modernize train signals is a first step toward achieving 15-minute frequencies and reducing local traffic."
The $7 million in Community Project Funding for NCTD was requested by Congressman Mike Levin in the FY 2023 Consolidated Appropriations Act, which sets federal funding levels for the fiscal year ending on September 30, 2023. The Appropriations Act was signed into law by President Biden on December 23.
"The Sprinter corridor through North County San Diego is a vital regional transportation link, and I'm excited to announce that I have secured $7 million in federal funding for the North County Transit District to help improve service along this corridor," said Rep. Levin. "This funding will support upgrades to the Sprinter's signal system, helping increase service frequency, improve safety, and better connect our communities. I look forward to seeing this funding improve this corridor and will continue my efforts to bring more federal funding home to modernize our transportation infrastructure and foster economic prosperity." 
"Congressman Levin has been a champion for transit in our region," said NCTD Board of Directors Chair Jewel Edson. "We appreciate his efforts in securing this needed funding."
The Sprinter Corridor Service Improvement Project will be advanced in two phases to support increased Sprinter speed and frequency. NCTD will first modernize the signal and communications systems along the Sprinter corridor to improve safety, enhance community connectivity, and reduce service disruptions.
The project directly supports local, regional, and statewide plans to address climate change by reducing greenhouse gas emissions and vehicle miles traveled. Increasing Sprinter service frequencies will generate a viable mobility alternative to using personal vehicles, which will reduce vehicle usage and improve air quality. The project will improve the quality of life for residents and visitors along the Sprinter corridor and enhance mobility for underserved communities.
Comments
comments