Newsom visits Lithium Valley to highlight battery production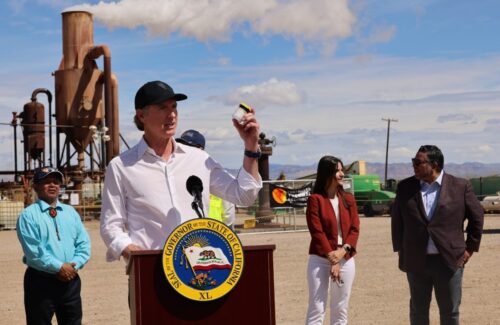 By SDCN Editor
Imperial Valley, CA–Governor Gavin Newsom Monday visited Imperial Valley to see the progress being made on transforming the Salton Sea region into a global hub for battery production, essential to the worldwide transition to zero-emission vehicles. California's Imperial Valley contains some of the largest lithium deposits in the world, specifically underground near the Salton Sea – a region is also known as Lithium Valley.
Experts believe Lithium Valley could provide enough lithium to meet all of America's future demand and more than one-third of global demand – supercharging the transition to zero-emission vehicles.
During his visit, the governor toured Controlled Thermal Resources in Imperial for a demonstration of safe lithium mining and battery production. He also met with local elected officials, community groups, and other stakeholders to discuss ways the state is putting the needs of local Imperial Valley communities first as the region undergoes a significant economic transformation. Earlier in the day, the Governor visited a project that is being implemented as part of the Salton Sea Management Program to enhance wetland habitat and improve public health and environmental conditions at the Salton Sea. 
"We're building a hub for global innovation while ensuring this transformation benefits communities right here in Imperial Valley," Governor Newsom said. "California is poised to become the world's largest source of batteries, and it couldn't come at a more crucial moment in our efforts to move away from fossil fuels. The future happens here first – and Lithium Valley is fast-tracking the world's clean energy future."
"Imperial's Lithium Valley will play a crucial part in America's clean energy future. We need to ensure the investments in that energy future benefit the surrounding communities that have been left economically stranded for too long," Senator Steve Padilla (D-San Diego) said. 
Newsom says building out a world-class battery manufacturing ecosystem in tandem with lithium production and processing would increase economic opportunity and deliver quality jobs and community benefits to the region.
Last year, Newsom signed legislation directing $5 million to Imperial County to support Lithium Valley and created the Lithium Extraction Tax Law. The new law ensures Imperial Valley communities are benefited from lithium extraction and are a significant part of the growing industry.
Since 2017, California has awarded more than $27 million to nearly 20 research projects to advance innovations for lithium recovery from geothermal brines, the processing of manufacturing grade lithium, and the efficient use of lithium in batteries, as well as other related research, planning, and development efforts. 
"There is boundless potential within the Salton Sea region, both in terms of its role as the leading source of battery components for worldwide clean energy production and the bright future ahead for the local communities who will benefit from new development and high-paying jobs," said Silvia Paz, Chair of the Lithium Valley Commission. "The Lithium Valley is ready to be a key player as California leads a worldwide transformation towards greener technology."
In a crucial milestone toward making the state a global leader in the production of lithium, the Blue Ribbon Commission on Lithium Extraction in California submitted its report of findings and recommendations to the state Legislature in December. The report recommends accelerating transmission planning, improving permitting, and securing funding for infrastructure investments and economic development incentives to support industry growth and job training.
Comments
comments