Birch Aquarium welcomes baby Weedy Seadragons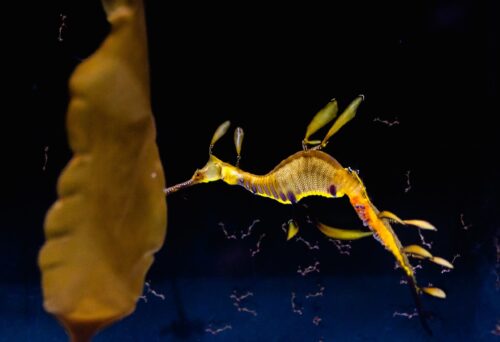 By SDCN Editor
La Jolla, CA–Birch Aquarium at Scripps Institution of Oceanography at UC San Diego celebrated the arrival of more than 70 tiny newborn Weedy Seadragons, which are incredibly difficult to breed and rear in captivity, the aquarium said.
Only a handful of facilities have successfully hatched and reared this unique species of fish that are related to seahorses and pipefish. 
"This is huge for us. We've been working on this for decades," said Associate Curator Leslee Matsushige who leads Birch Aquarium's Seahorse and Seadragon Breeding Programs. "This is a very challenging yet exciting process. We've had some previous experience raising young seadragons, so we hope to be successful raising an even greater number of babies this year."
The baby weedies are about 1 inch long and weigh less than 1 gram, and will grow to be 13-15 inches long. They began hatching on February 26 and continued hatching through Thursday, March 2. Weedy Seadragons are fairly solitary creatures. Once the eggs hatch, the babies are fully independent. They feed on their own and fend for themselves. The father's role in protecting the fry is done, the aquarium said. 
For now, the babies are being raised behind the scenes so aquarists can monitor and feed them a special diet. Weedy seadragons are notoriously picky eaters. Their food of choice is tiny mysid shrimp.
For several weeks, the Birch Aquarium Husbandry Team had been closely monitoring the father who carried more than 70 eggs on the underside of his tail. Baby seadragons have leaf-like camouflaging appendages, which are usually very large for their bodies, and not as colorful when compared to an adult. They also have a much shorter snout.
The aquarium has experienced an influx of guests coming through its doors following the announcement of the egg transfer on January 9. A previous egg transfer happened in 2020 when five eggs were released and two of them hatched. However, that transfer took place behind the scenes. Those two seadragons are currently in their exhibit. 
The stunning centerpiece for Seadragons and Seahorses, which opened in May 2019, is home to 16 adult seadragons. The display is 18 feet wide, and 9 feet tall, and holds over five thousand gallons of water. It was designed to provide an optimal environment for these colorful fish to mate and breed. 
"Seadragons are relatively new to human care with their first introductions in the '90s. In that short period of time, Birch Aquarium and our colleagues have been able to learn just a bit of their amazing life history, genetics, and behaviors," said Jenn Nero Moffatt, Senior Director of Animal Care, Science, and Conservation. 
"This successful breeding was the result of many years of dedication to understanding this delicate species and replicating their natural environment through changes in flow rates, water volume, lighting and water temperature, which are key to influencing their health and successful breeding. We are poised to help this species with our conservation program," Moffatt continued.
Matsushige and her team have been working with seadragons since 1996. Not only has she been able to improve her breeding strategies based on information from her own research but also from the experiences of colleagues who have shared notes about their own breeding strategies.
"There is still a lot to learn and improve on," said Matsushige. "We hope with the gained knowledge we can get better at this process and have more frequent and consistent egg transfers and hatchings."
 With their intricate camouflage and unique coloring, seadragons are wonderful ambassadors to promote a greater understanding of the rich diversity in our oceans.
Weedy seadragons are only found in temperate waters on the southern coast of Australia. They have delicate appendages that help them blend in with kelp and seagrass to avoid predators. Other challenges faced by seadragons in the wild include food scarcity, warming oceans, and compromised habitats caused by climate change.
The babies will spend up to a year behind the scenes before guests can see them. Eventually, there may be an opportunity to transfer some to other Association of Zoos and Aquariums institutions as part of breeding and education programs.
To learn more about the aquarium's Seadragon Breeding Program, visit aquarium.ucsd.edu.
Comments
comments