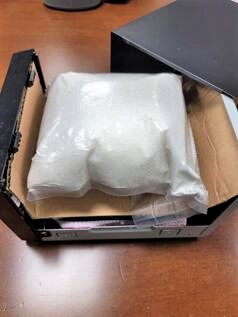 By SDCN Editor
Sterling, VA–It might have been a micro stereo, but U.S. Customs and Border Protection officers clearly didn't like the loud sound they heard emanating from it recently at Washington Dulles International Airport.
While inspecting international air cargo, officers examined a three-piece hi-fi micro sound system and noticed that the receiver part of the stereo was unusually heavy. They lifted the receiver and heard a bulk object moving inside. Officers x-rayed the parcel and verified an anomaly in the receiver.
Officers opened the stereo receiver and extracted a vacuum-sealed bag that contained a white, crystal-like substance. They tested the substance with a handheld elemental isotope analysis tool and identified the substance as ketamine hydrochloride.
The ketamine weighed about two pounds, and four ounces, and had a street value of about $60,000.
The parcel was shipped from an address near Manchester, U.K., and was destined for an address near Los Angeles.
Ketamine hydrochloride is a Schedule III non-narcotic compound regulated under the Controlled Substances Act.
According to the DEA, ketamine, commonly known on the street as Special K, is used in both human and veterinary medicine to induce sedation, immobility, and relief from pain. It has recently been used by medical professionals for mental health and substance use disorders. Ketamine is abused for its ability to induce dissociative sensations and hallucinations, and it has been used to facilitate sexual assault. Overdoses can lead to nausea, irregular heart rate, muscle stiffening, unconsciousness, and respiratory failure leading to death.
The ketamine will be destroyed. No arrests have been made. An investigation continues.
"Transnational criminal organizations continue to employ a variety of tactics to smuggle illicit narcotics into the United States, and our officers proved once again that they are extraordinarily skilled at detecting these concealment methods," said Christine Waugh, Acting Area Port Director for CBP's Area Port of Washington, D.C. "We want to assure the public that Customs and Border Protection remains committed to keeping our country and our communities safe from the scourge of dangerous drugs."
CBP officers and agents seized an average of 2,895 pounds of dangerous drugs every day at the nation's air, land, and sea ports of entry. 
Comments
comments