Emerson Elementary celebrates the campus's new soccer field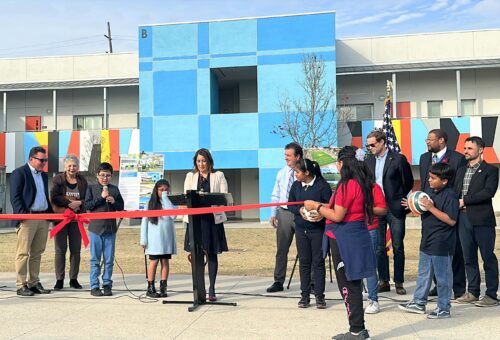 By SDCN Staff
San Diego, CA–One of Southcrest's oldest elementary schools celebrated its new state-of-the-art facilities and the completion of campus-wide renovations on Thursday. 
Emerson Elementary School students joined San Diego Unified School District Superintendent Dr. Lamont Jackson, District D Board of Education Trustee Richard Barrera, Principal Veronica Reyes, students, the San Diego Loyal Soccer Club, the Master Gardener Association of San Diego, and community members in dedicating the campus. 
As a result of a three-year Whole Site Modernization project, Emerson Elementary School now welcomes guests with state-of-the-art classrooms, a soccer field, and a secure campus entry. 
"It's astonishing how much this campus has changed in just three years," Barrera said. "And it's all the result of our taxpayers who said yes to improving our schools. This school and community will benefit from these improvements for years to come." 
The project involved the construction of a state-of-the-art two-story classroom facility, new kindergarten and preschool classroom buildings with dedicated outdoor play areas, a new student services and health building, an outdoor amphitheater, a student garden, and a lunch court. To make room for the new classroom buildings, four aging buildings and all portables were removed from the campus.
"It is our hope that this is a campus the community can be proud of, and a place where students and families can thrive," Superintendent Jackson said. 
Renovations were also made to the multi-purpose room, library media center, cafeteria, and kitchen. 
Located in South San Diego, Emerson Elementary has served the community for more than a century. It first opened in 1911 and has since served generations of students. 
Named after 19th Century visionary and poet Ralph Waldo Emerson, the school strives for fluency in English, music, arts, mathematics, and physical education. It also offers the Gifted and Talented Education program, which identifies gifted learners and provides them with accelerated learning opportunities. 
"This beautiful campus is worthy of our amazing students," said Principal Reyes. "We are innovative, kind, strong, and devoted. I'm proud to be the new principal."
To ensure safety and health, the project also included the installation of perimeter fencing and security cameras and the creation of a single main campus entryway. All old water pipes and drinking water fixtures with lead-bearing components were replaced and upgraded, and filtered hydration stations were installed throughout the new campus.
The existing field located along Boston Avenue was also transformed into a new synthetic turf soccer field that will be accessible as a community park after school hours.
Part of the Play All Day partnership between San Diego Unified and the City of San Diego, the joint-use play space includes soccer striping, nets, an asphalt walking/running track, newly planted landscaping, and a parking lot.
The field is currently available to students and will be open to the public in late 2023. 
The project is fully funded through Propositions S and Z. Funds for the student garden were also provided by the Master Gardeners of San Diego County.
With the support of the San Diego Unified School District's "Farm to School" program, many schools are re-launching their school garden programs. About half of San Diego Unified schools have gardens. 
Through the district's Food Services Department, school gardens have the opportunity to grow food for the cafeteria through the "Garden to Cafeteria" program. Schools with gardens also have the opportunity for school garden clubs to repurpose food compost from the cafeteria so it does not end up in city landfills. 
Located near the new two-story classroom building, the Emerson Elementary "Children's Garden" currently allows students to plant fruits and vegetables and is in the process of participating in the "Garden to Cafeteria" program. 
Comments
comments