'Everything Everywhere All at Once' Wins Seven Academy Awards, Including Best Picture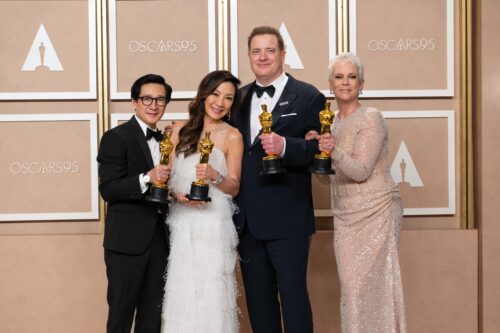 By Danny R. Johnson -Entertainment News Editor
HOLLYWOOD, CA –"Everything Everywhere All at Once," a tender, world-jumping sci-fi, and action drama that features hot-dog fingers, sex toys, and a deeply affecting scene between two rocks on a cliff, capped a stunningly successful award-season run on Sunday, winning the Oscar for best picture.
The film, directed by Daniel Kwan and Daniel Scheinert, came into the evening as the favorite for the top award. It earned 11 Oscar nominations and had taken top prizes from the actors, writers, producers, and directors' guilds earlier in the year. Only four other films ("American Beauty," "Argo," "No Country for Old Men," and "Slumdog Millionaire") have completed that sweep, and all went on to best picture.
"All Quiet on the Western Front" had been thought to be a potential dark horse as a favorite among older voters in the academy who found "Everything Everywhere" to be head-spinning for their taste. But in the end, the eccentric movie, which was a hit among critics and audiences, continued its hot streak and won big.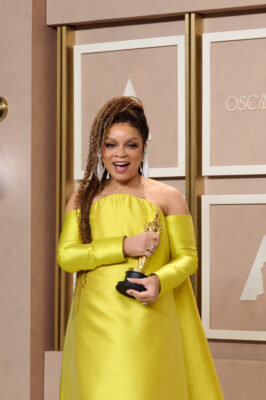 Earlier in the evening, Ke Huy Quan won for supporting actor; Jamie Lee Curtis won for supporting actress; Michelle Yeoh won for best actress; Paul Rogers won for editing; and Daniels won for best director and original screenplay. With the addition of best picture, "Everything Everywhere All at Once" became the film with the most marquee wins in Oscar history. It won seven Oscars in total.
"This is for my dad, who like so many immigrant parents, died young," Jonathan Wang, a movie producer, said in accepting the award. "And he is so proud of me, not because of this. But because we made this movie with what he taught me to do, which is, no person is more important than profits, and no one is more important than anyone else. And these weirdos right here supported me in doing that."
Michelle Yeoh won the best actress Oscar at Sunday night's ceremony for her role as a beleaguered wife, mother, and laundromat owner whose life is turned upside down when she is thrown into multiple parallel universes in A24's genre-bending hit "Everything, Everywhere All at Once." The victory makes her the first Asian star to win best actress in the 95-year Academy Awards history.
"For all the little boys and girls who look like me watching tonight, this is a beacon of hope and possibilities," she said, accepting her award. "This is proof that dreams — dream big, and dreams do come true. And ladies, don't let anybody tell you are ever past your prime. Never give up."
Ke Huy Quan is Oscar's 2023 indisputable king of hearts. Even after sweeping every possible precursor, the "Everything Everywhere All" At Once star somehow managed to mine fresh feeling (who's chopping onions over here again?) with his season-capping win — from the moment presenter Ariana DeBose broke down announcing his name to his emotional recollection of his journey from child refugee to the Oscars stage: "This, is the American dream." In the best kind of multiverse, yes.
"Naatu Naatu," the rollicking dance hit from the Indian blockbuster "RRR," won the Oscar for best original song, beating out two pieces featuring American pop megastars.
It's not the first Indian number to win the award — that would be A.R. Rahman's tune for the British-made "Slumdog Millionaire" — but it is the first from an Indian production.
Rihanna, the musician, beauty mogul, and now mother, hit the Oscar stage Sunday night, just a month after headlining the Super Bowl halftime show. At the Dolby Theater in Hollywood, Rihanna performed the heartfelt "Lift Me" from the Marvel sequel "Black Panther: Wakanda Forever." The ballad was nominated for best original song.
After initially not even being set to perform, Lady Gaga made a big impression on Sunday night when she took the stage to sing the Oscar-nominated "Hold My Hand," which she wrote with BloodPop for "Top Gun: Maverick."
"Navalny," a portrait of the Russian dissident Aleksei Navalny, won the Oscar for best documentary feature.
Playing like a thriller — a genre Navalny suggests when the movie's tone is discussed in the opening moments — the film by the Canadian director Daniel Roher follows the anti-Putin campaigner as he investigates his poisoning, eventually eliciting a confession by phone from one of the men responsible.
Ruth E. Carter made history: The costume designer behind the "Black Panther" films became the first Black woman to win two Oscars.
On Sunday night, Carter took home best costume design at the 95th Academy Awards for the Marvel sequel "Black Panther: Wakanda Forever." Carter also won in 2018 for "Black Panther," making her the first African American to win.
In her acceptance speech, Carter thanked the film's director Ryan Coogler and asked if "Black Panther" star Chadwick Boseman could look after her mother, Mabel Carter, who she said died "this past week." Boseman died in 2020 of cancer at 43.
"This is for my mother. She was 101," Carter said. "This film prepared me for this moment. Chadwick, please take care of mom."
Comments
comments