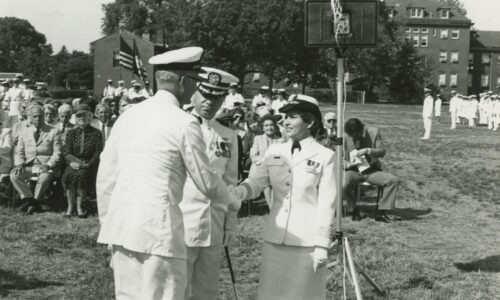 By SDCN Editor
San Diego, CA–The GI Film Festival San Diego kicks off May 15 at the Museum of Photographic Arts in Balboa Park with two documentaries of two local female veterans. 
The event begins with the San Diego premiere of "The Making of Top Gun 2," directed by award-winning filmmaker and military veteran Mark Vizcarra. A 4S Ranch resident, Vizcarra has been a longtime festival participant and supporter. Over the years, he was honored with several GI Film Festival San Diego awards, including Best Narrative Short (2017) and Best Film Made by A Veteran or Servicemember (2017) for his film "Once Guilty, Now Innocent, Still Dead," and Best Film Made By or Starring Veterans or Military (2018) for "Thud Pilots." This year, his 30-minute documentary gives audiences a behind-the-scenes look at the U.S. Navy's support of the making of the 2022 action drama "Top Gun: Maverick."
Making its U.S. premiere, "Time for Change: The Kathy Bruyere Story" details retired U.S. Navy Captain Kathy Bruyere's determination to create more equitable opportunities for women serving in the military in the late 1970s. Bruyere, who lived and worked in San Diego, challenged centuries of Navy tradition and made history by fighting for the rights of female service members to serve at sea. A trailblazer, Bruyere shattered glass ceilings and inspired countless military careers here in San Diego and around the country. In 1976, she was featured on the cover of Time magazine along with 11 other women as "Women of the Year." Bruyere passed away in San Diego in September 2020 at age 76 and is interred at Miramar National Cemetery.
A special screening of "Ultimate Sacrifices: CPT Jennifer Moreno," pays homage to the life and career of U.S. Army Captain Jennifer Moreno. She grew up in San Diego and was a leader in San Diego High School's JROTC program. A core member of the Cultural Support Team in Afghanistan, Moreno and an elite female squad engaged in dangerous combat operations while providing allied forces a means to communicate with the local women. The documentary features interviews with Moreno's close friends and family left behind after she made the ultimate sacrifice. Moreno is interred at Fort Rosecrans National Cemetery in Point Loma. To further honor her service and sacrifice, the San Diego VA Medical Center in La Jolla renamed its building in December 2022 to the Jennifer Moreno Department of Veterans Affairs Medical Center.
Students from San Diego High School's JROTC program will present the colors prior to the screening. Those interviewed in the films are expected to be in attendance and will participate in a post-screening discussion, including Catherine "Kat" Harris (for "Ultimate Sacrifices") and Thomas Bruyere, Kathy's son (for "Time for Change"). Additional subject-matter experts and members of the filmmaking team are also expected to attend.
"We are incredibly excited to open this year's festival with three local films that not only showcase our beautiful city but also spotlight stories that would not otherwise be told on the big screen," says Jodi Cilley, founder and president, of Film Consortium San Diego. "As a film teacher and someone who has taught many veterans, it's thrilling to see this year's festival open with not one, but three films created by two military veterans turned filmmakers to showcase their talents, amplify their voices, and celebrate their work."
The festival will screen 31 films during its six-day run. All screenings will culminate with uniquely invigorating panel discussions where attendees will have the opportunity to hear from filmmakers, film subjects, actors, and subject-matter experts. The festival week will conclude on Saturday, May 20 with the anticipated awards celebration with returning host, stand-up comedian, and army combat veteran Thom Tran.
Additional themes in this year's festival include military sexual trauma, suicide awareness, post-traumatic stress, invisible wounds, and transitioning from military to civilian life. The festival will also bring true stories about San Diego heroes, World War II aviators, and service dogs to the big screen. Unique military experiences from the Ukrainian War, and Civil War, as well as a story about a Black Vietnam War veteran's perspective, will also be shared. Audiences can also watch fictionalized stories that place veterans, service members, and current events at the center of the plotline, including exciting espionage adventures, a romantic western, and an apocalyptic zombie invasion.
Other local films this year include "Touch," a narrative short that takes place amidst the COVID-19 pandemic and features a cast and crew of San Diego residents; "Major," a documentary short from San Diego filmmaker James Wright about one man's post-911 journey from Hollywood actor to Army Major to retirement; "Let's Talk About The War," a documentary narrated by combat veteran and local film director Nick Betts; and "Echoes of Resilience," a documentary short filmed in San Diego, about a series of PTSD-related tragedies that force a devoted mental health advocate to redefine her life.
Opening night starts at 6 p.m. followed by a reception at 6:30 p.m. Attendees have an opportunity to meet and greet with filmmakers, film subjects, and other movie lovers before the main screening. At 7:30 p.m., the evening will continue with the dual screening of "Time for Change: The Kathy Bruyere Story" and "Ultimate Sacrifices: CPT Jennifer Moreno." Award-winning documentary filmmaker and Iraq War veteran Daniel Bernardi directed both films.
Tickets for most screenings start at $10 each or $8 for military, veterans, and KPBS members. Guests will be asked to assess their health before attending and remain home if they are sick or test positive for COVID-19 or other infectious illnesses. Attendees, regardless of vaccination status, always have the option to wear a facial covering while attending events and screenings.
Over the years, the festival has hosted several celebrities whose films have been presented at GI Film Festival San Diego events, including documentary filmmakers Ken Burns and Ric Burns; actor and activist George Takei; actor Matthew Marsden; actor, producer, director Jeffrey Wright; and actor/director Brenda Strong.
Every year, members of the GI Film Festival San Diego advisory committee review films for the final festival selection. The festival has active support from several military and veteran-related organizations, such as San Diego State University's Art and Joan Barron Veterans Center, Project Recover, Travis Manion Foundation, Elizabeth Hospice, Challenged Athletes Foundation, Blue Star Families San Diego, San Diego Military Family Collaborative, Armed Services YMCA, Southern Caregiver Resource Center and the Foundation for Women Warriors. Members of the advisory committee also come from SAG-AFTRA and many have military backgrounds, having served in the U.S. Marine Corps, U.S. Air Force, U.S. Navy, U.S. Army, and the Air Force Reserves. Several are military or veteran spouses. All committee members volunteer their time, talent, and expertise to ensure the festival provides an authentic view of the military experience and engages its audience through post-screening discussions.
Established in 2015, the GI Film Festival San Diego is a multi-day showcase of films for, by, and about military and veteran experiences. Films featured in the festival reveal the experiences of service members, veterans and their families. The festival also provides veterans and service members with an opportunity to further their creative skills.
The festival is organized by KPBS in partnership with the Film Consortium San Diego.
Tickets for Opening Night are $25 for general admission and $20 for military, veterans, or KPBS members. All tickets can be purchased online at GIFilmFestivalSD.org.
Comments
comments