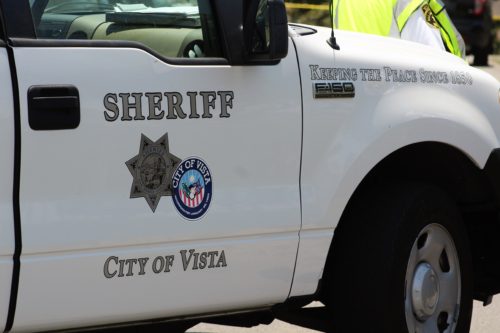 By Gina Yarbrough
Vista, CA–A 22-year-old man was arrested Wednesday afternoon on suspicion of stabbing his parents in their apartment in Vista, authorities said. 
The Sheriff's Department received a call around 1 p.m. of a stabbing in the 900 block of North Santa Fe Avenue.  
When deputies arrived on the scene, they contacted the parents who appeared to have been stabbed by their son, Jesus Armando Alcaraz. He had attacked them with a knife and was still inside their apartment. As deputies evacuated nearby residents, they saw smoke coming from the unit, Sheriff's Department Sergeant Paul Park stated in a news release.
Deputies entered the apartment to safely take Alcaraz into custody and assist with clearing the scene for the Vista fire crews. As deputies contacted Alcaraz, he refused to surrender. Deputies brought in a Sheriff's K-9 to take him into custody.  
Fire crews entered the apartment, and determined the smoke was caused by paper burning on top of the stove. There was no damage to the apartment. 
The stabbing victims were taken to the hospital for non-life-threatening injuries. The evacuated residents were able to return back to their homes.  
Comments
comments