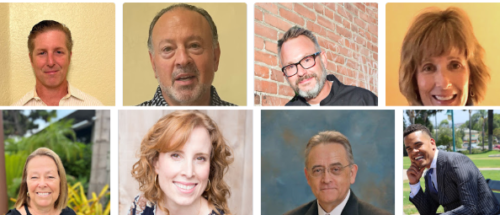 By SDCN Staff
San Diego, CA–Meals on Wheels San Diego County elected new board members who will serve three-year terms from 2022-2025. 
The new members were voted into service on Sept. 27 and have already begun supporting the nonprofit by bringing in fresh perspectives and passionate ideas, all in support of the nonprofit's mission to deliver hot meals and warm smiles to local seniors who need it most.
New board members include: David Cohn, co-owner, Cohn Family Restaurants, Drew Deckman, chef and owner, Deckman's Restaurant Group, Bobby Fitzsimmons, program scheduler, Fleet Readiness Center Southwest, Rick Gentry, retired, former president and CEO, San Diego Housing Commission, Shane Harris, president, People's Association of Justice Advocates, and CEO of S Harris Communications, Nancy Lazarski, president and owner, Crosscut LLC, Margaret Malowney, retired, former director, Civilian Human Resources for the Space and Naval Warfare Command, and Pam Pendrell, partner and chief compliance officer, GlobeFlex Capital.
"We're excited to have these wonderful community leaders join our team to not only help take our organization into the next three years of growth but also provide fresh perspectives on the work we do to support local seniors in need of nutrition," says Brent Wakefield, president, and CEO, Meals on Wheels San Diego County. "In collaboration with our long-standing board members, staff, and volunteers, we look forward to continuing to support our senior clients every day of the year."
For information on ways to get involved and support Meals on Wheels San Diego County, visit sandiegomealsonwheels.org.
Comments
comments