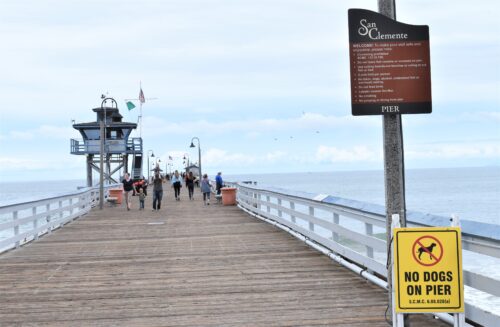 By Gina Yarbrough
San Clemente, CA–Nine juveniles were arrested Tuesday in connection with an assault on two Marines at the San Clemente Pier on May 26 in Orange County, authorities said. 
Orange County Sheriff's Department investigators booked five teens into Orange County Juvenile Hall on suspicion of violating assault with a deadly weapon. They will face felony charges, and the other four were cited with misdemeanor assault charges.
During the Memorial Day weekend, Sheriff's deputies were dispatched to the San Clemente Pier around 9:50 p.m. regarding a large group of teens involved in an assault on three Marines.
When deputies arrived on the scene, they found two Marines injured from the assault. The Orange County Fire Authority was called to render medical aid to the two Marines. However, they declined to be transported to a local hospital.
During the investigation, deputies discovered a third Marine was assaulted during the brawl. 
Due to the suspects being juveniles, the Sheriff's Department will not release further information on the incident at this time. 
On Wednesday, the San Clemente City Council released a statement condemning the incident:
"The San Clemente City Council condemns the disgusting actions of a group of local high school students resulting in an attack on two Marines near the Pier in San Clemente. Swift action was taken to review all evidence and ensure those complicit in this incident face responsibility for their crimes. Today, nine local students were identified as participating in the attack. Five of the students were booked into Juvenile Detention and will face felony charges, the other four students were cited with misdemeanor assault charges. The investigation is ongoing and more charges could be filed.
As your elected officials, we want to assure you that nothing is more important than public safety. The use of overtime and other strategies to increase the public safety presence in the community has been authorized. Furthermore, at the last City Council meeting, the City Council approved an increase in the number of Sheriff Deputies in San Clemente. There have been social media posts, press reports, and countless other communications regarding the events that led to the attack. While this information is important and should not be disregarded, nothing warrants the violence displayed by those involved in the incident.
We are deeply concerned that these attacks originated with local high school students and that in addition to the brutal attack, racial epithets were used. These activities are in no way indicative of the overwhelming majority of the great students in our schools or the culture of this incredible community. The City will engage with our partners from the Sheriff's Department and the local schools to discuss ideas for eliminating these types of incidents in the future. Our best wishes and deepest condolences go out to the Marines and their families and we sincerely thank them for their service."
The investigation is ongoing.
Comments
comments