Oceanside appoints Kedrick Sadler as the city's next police chief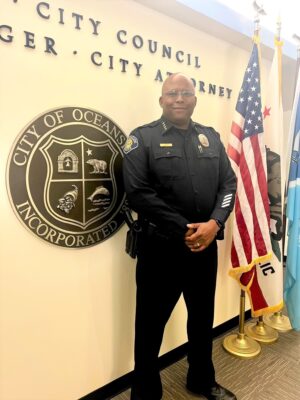 By SDCN Editor
Oceanside, CA–The City of Oceanside has appointed a new police chief. 
Oceanside Police Chief Kedrick Sadler's new post became official on Saturday following Police Chief Fred Armijo's retirement that same day.
"Chief Kedrick Sadler possesses over 22 years of diverse policing experience spent entirely in Oceanside," the City of Oceanside said in a statement.
"Chief Sadler is committed to advancing a department that values professionalism, transparency, community service, and innovation," Oceanside City Manager Jonathan Borrego said. "I would also like to personally thank the 10-member community stakeholder committee that participated in the interview process. Their feedback and perspective were invaluable to our efforts."     
During his career Sadler has held the positions of patrol officer, canine handler, property crimes detective, homicide detective, patrol sergeant, support operations division lieutenant, and captain overseeing the police department's investigations division. 
City officials said Sadler rose through the ranks and has a law enforcement career marked by "strong leadership skills and commitment to community engagement."  
Sadler earned a Bachelor's Degree in Criminal Justice and is currently working on a Master's Degree in Organizational Leadership. He also maintains numerous Peace Officer Standards and Training (POST) certificates. 
Sadler is known throughout the community as a professional, collaborative, solution-oriented leader who has directly supported numerous local organizations including Oceanside Youth Partnership, Save Our Streets, North County LGBTQ Resource Center, Oceanside Promise, Oceanside Chamber of Commerce, and Visit Oceanside. He also served on the North San Diego County NAACP Executive Committee,  
Chief Sadler is happily married to his wife, Malinda Sadler, and enjoys time outside of work with his family with their five children Justin, Jordan, Sierra, Jarred, and Laila.
Chief Fred Armijo spent 29 years of service with the Oceanside Police Department. He joined the department as a sworn police officer in 1994 and was promoted through the ranks to sergeant, lieutenant, and police captain in 2011. Armijo served as interim police chief in December of 2020 and was appointed chief in March 2021.
Comments
comments