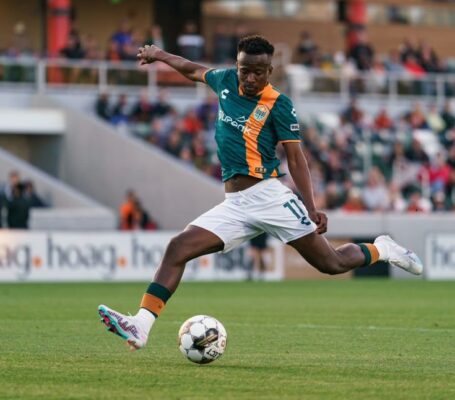 By SDCN Editor
Irvine, CA–Tumi Moshobane and Joe Corona scored for San Diego Loyal SC in a 2-1 win against host Orange County SC Saturday night at Championship Soccer Stadium.
Moshobane found the net with a left-footed shot in the 15th minute while Corona converted a penalty kick in the 19th minute to give the visitors three more points in the USL Championship Western Conference standings. It was also SD Loyal's first road win of the season. The club returns home for its next match, hosting Rio Grande Valley FC next Saturday.
Moshobane opened the scoring with a blast from the left side of the penalty area off a pass by Ronaldo Damus. It was Moshobane's second goal of the season and his club-leading 19th overall. His goal sent the already loud SD Loyal faithful who made the trip north into a frenzy. After Corona converted his penalty kick for a 2-0 lead and his first USL Championship goal, the National City native ran to the SD Loyal supporter's section causing the loyal fan base to get even louder. Corona received the nod to take the penalty after Nick Moon was brought down in the box by Alex Villanueva. The Orange County defender was also on the wrong side of a bad pass intercepted by Damus on Moshobane's scoring play.
The SD Loyal faithful continued chanting through the night as Head Coach Nate Miller's team tightly defended Orange County (1W5L-3D, 6 points) down the stretch. The Western Conference rival pushed up its lines and worked for scoring chances. The homeside's best opportunities came late in the first half with shots by Milan Iloski (over the crossbar) and Emil Nielsen (off the left post). Orange County found its lone goal on a Iloski set piece connecting through header with Korede Osundina six minutes into the 15 minutes of second-half stoppage time. The score came when SD Loyal was down to 10 men after Nick Moon was sent off for a second yellow card in stoppage time.
SD Loyal (5W-2L-2D, 17 points) will next host Rio Grande Valley on May 13 at 7 p.m. in its only home match in May. Miller's team will play two more road matches (Miami FC on May 20 and Oakland Roots SC on May 27) later this month. 
Comments
comments