Sycuan, Padres and National School District donate 1,000 free turkeys to families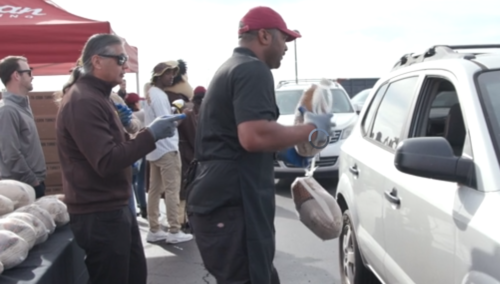 By SDCN Editor
National City, CA–Sycuan Band of the Kumeyaay Nation in partnership with the San Diego Padres and the National School District donated 1,000 free turkeys to families living in National City.
Thursday's donation comes in advance of the Thanksgiving holiday as a way to give back to the community.
"With the cost of groceries, fuel, housing, and many basic necessities on the rise, it's been a really tough year for many people," said Cody Martinez, chairman of the Sycuan Band of the Kumeyaay Nation. "Through the Kumeyaay spirit of giving, we wanted to figure out a way to directly support the hardworking families in our community. We hope this donation provides a little bit of relief and spreads holiday cheer to those that need it most."
Families that received a turkey have a child that is currently enrolled at one of the 10 public schools within the National School District, Preschool Center, Integrity Charter School, Sweetwater High School, National City Middle School, or Granger Junior High School.
"This incredible donation from the Sycuan Band of the Kumeyaay Nation made possible through our partnership with the National City Chamber of Commerce, is a wonderful example of communities supporting each other and illuminating the true spirit of Thanksgiving," said National School District Board President Alma Sarmiento.
Members of the Sycuan Tribal Council, the National School District superintendent and board president, and alumni San Diego Padres players including Mark Loretta, Brian Lawrence, and Greg Garcia were on-site helping with distribution.
"As we begin the holiday season, the Padres are proud to partner with the Sycuan Band of the Kumeyaay Nation and the National School District to provide Thanksgiving turkeys for families in our community," said Erik Greupner, Padres CEO. "We are thankful for the opportunity to directly connect with families in National City."