Two San Diego student board members elected for new school year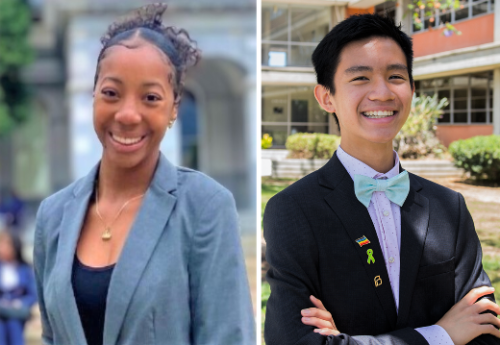 By SDCN Editor
San Diego, CA–Two San Diego students will take the oath of office in June after capturing the vote among their high school peers to earn a seat on the San Diego Unified School District Board of Education.
The results were recently certified after voting took place on April 27 and 28.     
Current first-year student board member Matthew Quitoriano, a sophomore at San Diego High School, retained his position and will serve a second term. During the 2023-24 school year, with the help of state leaders, Quitoriano would like to continue advancing student engagement into further advocacy for social-emotional health, voter registration, and facilities improvements, school officials said in news release. 
"Student engagement is still new and requires space and support to grow," Quitoriano said. "The groundwork that's been laid at San Diego Unified needs to be complemented by our state government leaders to help bridge the disconnect between student ideals and implementation."
Blessyn Lavender Williams, a junior at Lincoln High School, will replace outgoing Scripps Ranch High School senior Lea Nepomuceno. Lavender Williams is a student-athlete and class president. Mental health and student empowerment are two of her top priorities.
"Being a student board member will allow me to help fellow students prepare for their next step in life," Lavender Williams said. "I'd like to help facilitate college tours, provide information on financial aid resources, mental health workshops, school safety drills, and encourage safe spaces for ethnically led organizations to expand."
Board President Sabrina Bazzo said student perspective is critical to shaping district policy.
"Students are the consumers of education, which is why they should literally have a seat at the table to shape that experience," Bazzo said. "We value their incredible insight and have seen the positive effects of increased collaboration across our district through the addition of student board members."
The first San Diego Unified student trustee position was approved in 2019, with a second seat added in 2022.
The term for Trustees Quitoriano and Lavender Williams will officially begin July 1, 2023, and will run through June 30, 2024.
Comments
comments