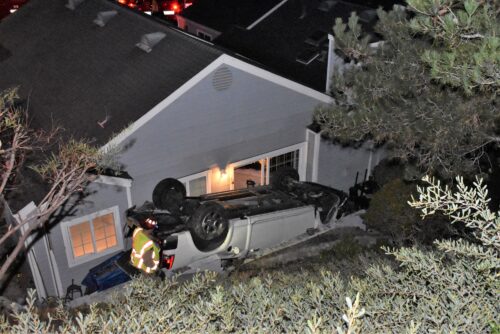 By Gina Yarbrough
Oceanside, CA–A man suspected of DUI drove off Fire Mountain Drive, plowed through a fence, and rolled down a hill into a resident's backyard in Oceanside Sunday night.
The incident happened around 7:20 p.m. in the 2800 block of Ocean Village Way, off Via Esmarca.
The Oceanside Fire Department received 911 calls of a vehicle crash into a home in the Fire Mountain area. Fire crews and Oceanside police arrived at the scene and located a Dodge Ram truck wedged between the back of the house and a hillside. 
Paramedics treated the driver for minor injuries before transporting him to a local hospital. He will later be charged with DUI once he's released.
There were no injuries to first responders or the resident at the home, authorities said.
A crane was used to remove the vehicle from the crash site.
Comments
comments