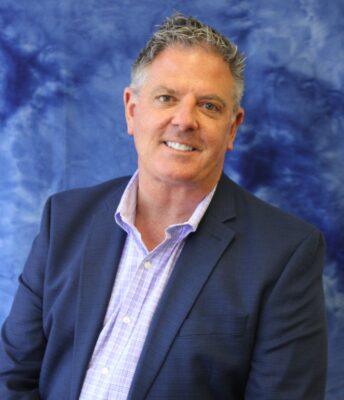 By SDCN Editor
San Diego, CA–Meals on Wheels San Diego County has announced the appointment of Keith Fisher as its Chief Operating Officer. Fisher started his new role with the organization on June 12.
As COO, Fisher will oversee all operational aspects of Meals on Wheels San Diego County during a unique and exciting post-pandemic period of growth and opportunity. 
Meals on Wheels representatives said Fisher's leadership and expertise will be instrumental in furthering the organization's mission to combat senior hunger, isolation, and neglect. With the nearly 50 percent increase in demand for services during the pandemic, the newly created position at Meals on Wheels San Diego County "was much needed to support." 
The pandemic growth was only the beginning of what is to come with the growing older adult population. By 2030, one out of four San Diegans will be senior citizens. Due to this increase, organizations like Meals on Wheels San Diego County are planning and preparing to ensure those most vulnerable are not left without the critical services needed to lift their spirits, nurture their bodies, and address the countless issues that threaten their independence and well-being.
Fisher brings a wealth of experience and a strong background in nonprofit management to his new position to face these challenges. He joins Meals on Wheels San Diego County from the San Diego County Bar Association, where he served as the deputy executive director and interim executive director. During his tenure at the bar association, Fisher oversaw membership, sponsorships, programs, and events, as well as general business operations.
With more than 25 years of leadership experience in nonprofit, service, and technology sectors in San Diego, Fisher has expertise in building and developing successful businesses, collaborating with boards of directors and management teams, and implementing sustainability planning and business development strategies. He has also been involved in corporate governance, human resources, and partnership development initiatives.
Prior to his work at the bar association, Fisher served as COO at the San Diego Opera for 15 years. He played a pivotal role in saving the venerable arts institution from closure in 2014, leading the transition as a facilitator and advisor to the board, staff, and community.
Fisher's professional experience extends to the technology sector, where he held senior management positions at ConfirmNet and WebSideStory. His diverse background—including an MBA from San Diego State University and a bachelor's degree from Northeastern University—makes him well-equipped to drive success and growth for Meals on Wheels San Diego County.
"We are thrilled to have Keith Fisher join our team as the Chief Operating Officer," says Brent Wakefield, President and CEO, of Meals on Wheels San Diego County. "His extensive experience, strategic vision, and commitment to community service will undoubtedly strengthen our organization's ability to support vulnerable seniors throughout San Diego."
Beyond his professional achievements, Fisher is passionate about helping seniors and has made a significant impact as a board member at Serving Seniors in San Diego. His dedication to the well-being of the elderly aligns perfectly with Meals on Wheels San Diego County's mission of nourishing seniors and enhancing their quality of life by providing meals to thousands of senior clients seven days a week.
"I remain committed to supporting our senior community and am honored to join the hard-working Meals on Wheels San Diego County team," says Fisher. "I look forward to continuing the organization's mission, growing its reach in the community, and empowering our seniors to live independently every day." 
For more information about Meals on Wheels San Diego County, visit sandiegomealsonwheels.org.