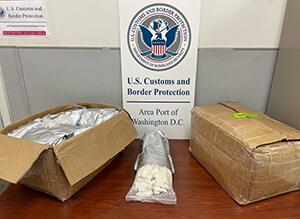 By SDCN Editor
Sterling, VA–Clandestine labs across the globe are cooking cathinone concoctions quickly in the hopes of slipping these new substances past law enforcement before authorities can identify them, but U.S. Customs and Border Protection officers were up to that challenge recently at Washington Dulles International Airport.
On June 26, officers intercepted two boxes destined for an address in Washington, D.C., that contained about 71 pounds of a N,N-Dimethylpentylone Hydrochloride, a substituted cathinone. Substituted cathinones are modified based on the structure of cathinone. Cathinones cause psychoactive and hallucinogenic effects similar to amphetamines.
It has been sold in powder and tablet form on the streets as ecstasy or molly ever since authorities initially identified it in the United States during the fall of 2021.
Synthetic stimulants have been reported to cause adverse health effects, such as high blood pressure, rapid heart rate, hyperthermia, dehydration, arrhythmias, hallucinations, loss of consciousness, and death.
The Dimethylpentylone load arrived from China and was manifested as a beauty product. Officers inspected the contents and discovered multiple vacuum-sealed bags that contained a white, crystalized substance. They tested the substance using a handheld elemental isotope analysis tool which identified the substance as N,N-Dimethylpentylone Hydrochloride.
The shipment weighed 32.2 kilograms or about 70 pounds.
Officers seized the Dimethylpentylone load and turned it over to special agents from Homeland Security Investigations for further investigation.
"The synthetic stimulant market tries to stay one step ahead of law enforcement by continually tweaking cathinone's chemical compounds to create new, yet still dangerous, analogues. Customs and Border Protection officers remain committed to protecting our communities by detecting these new illicit psychoactive stimulants and working with our federal, state, and local partners to hold importers accountable," said Christine Waugh, Acting Area Port Director for CBP's Area Port of Washington, D.C.
CBP officers and agents seized an average of 2,895 pounds of dangerous drugs every day at the nation's air, land, and sea ports of entry.