San Diego Loyal secures home playoff match with 2-1 win over Las Vegas Lights FC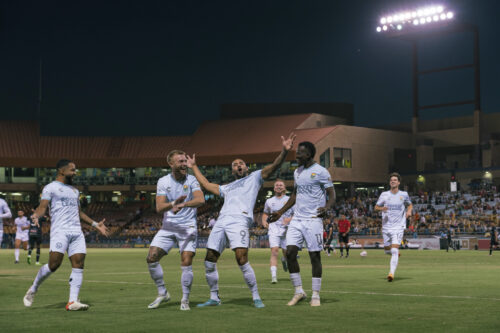 By SDCN Staff
Las Vegas, NV–San Diego Loyal SC secured its first-ever home playoff match Saturday night after defeating Las Vegas Lights FC 2-1 in the desert. The San Diego region will play host to its first postseason USL Championship match next month.
The historic home playoff match will take place the weekend of Oct. 21 to 23 and tickets are on sale now at sdloyal.com/tickets.
The soccer milestone for San Diego came thanks in part to early goals by Kyle Vassell and Elijah Martin. SD Loyal (18W-9L-4D, 58 points) earned a home playoff match in only its third season. Coach Landon Donovan's team clinched its second-consecutive postseason berth last week after taking down Phoenix Rising FC 3-0 at home.  
SD Loyal added to its history with Vassell's goal that came 16 seconds into the match. The English striker gave his team a 1-0 lead when he took the kickoff and sped past Las Vegas defender Antonio Leone, leaving him one-on-one with goalkeeper Abraham Romero. Vassell slotted his opportunity into the Las Vegas net for his team-leading 14th goal of the season and the fastest goal in club history. It was also the quickest score in the league this season. 
Three minutes later, Martin added to the SD Loyal lead with his first goal of 2022. The defender sent in a right-footed low shot off a cross from Jack Blake. Martin had not scored since October 2, 2021. His score against Las Vegas (10W, 13L, 7D, 32 points) helped give Donovan's team a comfortable lead early. 
But Las Vegas pressured in the second half, eventually ending that comfort. Lights forward Daniel Trejo cut the SD Loyal lead to 2-1 when he poked in a pass by Daniel Crisostomo on a quick play inside the penalty area in the 71st minute. SD Loyal was able to adjust quickly and hold on to the victory. 
With the win, SD Loyal remains in second place in the Western Conference standings behind San Antonio FC. Coach Donovan's team has three regular season matches remaining. The club will return home to begin preparing for a short bus ride north to visit Orange County SC on Saturday, Oct. 1 (7 p.m.). After the Southern California rivalry match, SD Loyal will play host to New Mexico United in the final regular season home match on Sunday, Oct. 9 at 3 p.m. Tickets to that match are on sale now at sdloyal.com/tickets. The club's regular-season finale is set for Oct. 15 at Sacramento Republic FC at 7 p.m.
Goal Score Rundown
SD – Kyle Vassell, 1st minute: Vassell took a ball after the opening kickoff and sped past a defender who failed to reach the ball on a pass, and blasted a shot for the 1-0 early lead. LV 0, SD 1
SD – Elijah Martin (Jack Blake), 4th minute: Martin finished off a quick play with a right-footed shot from the right side of the Las Vegas penalty area off a Blake pass for the 2-0 lead. LV 0, SD 2
LV – Daniel Trejo (Daniel Crisostomo), 71st minute: Trejo took a quick pass by Crisostomo and poked it past Koke Vegas. LV 1, SD 2
Comments
comments