SD Loyal score goals to earn draw against Phoenix Rising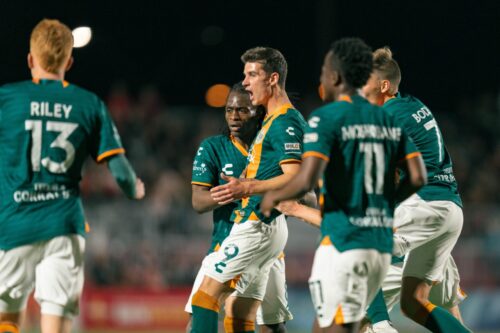 By SDCN Editor
Phoenix, AZ–San Diego Loyal SC scored a pair of late second-half goals in come-from-behind fashion to earn a 2-2 draw against host Phoenix Rising FC Saturday. 
Nick Moon and Ronaldo Damus scored in the 72nd and 80th minute for SD Loyal to save a point in the USL Championship standings. The draw kept head coach Nate Miller's team unbeaten against its Western Conference rival in the last four meetings.
The pair of late second-half goals earned SD Loyal (2W-1L-1D, 7 points) its first point after starting the season with back-to-back wins from Torero Stadium before playing to a 1-0 loss at Sacramento Republic FC last week. In its second road match of the season, SD Loyal pushed for a game-winner late but would end the contest by settling for a draw. Miller's team will now head into its first Lamar Hunt U.S. Open Cup match of 2023 Wednesday when it hosts Albion San Diego from the SDSU Sports Deck.
Against Phoenix (0W-2L-1D, 1 point), a team that had not played since losing 3-0 at SD Loyal on March 19, Miller's team pushed up its lines after Manuel Arteaga scored his second goal of the night for the homeside. Arteaga found the net in the 35th minute off a cross from Henry Onuorah, connecting with the pass as he charged the SD Loyal goal. In the 63rd minute, Arteaga put back a blocked Emil Cuello shot from inside the penalty box to double the Phoenix lead.
SD Loyal began its comeback with Moon's goal. The attacking midfielder cut the Phoenix lead to 2-1 when he tapped in a Blake Bodily cross. Eight minutes later, Damus' goal came in dramatic fashion as he rolled in a ball off a defender and across the goal line after Phoenix goalkeeper Rocco Rios Novo made consecutive saves.
SD Loyal returns to USL Championship play on Saturday, April 8 when the club hosts FC Tulsa from Torero Stadium. Tickets to the match are available now at sdloyal.com/tickets.
Score Notes:
PHX – Manuel Arteaga (Henry Onuorah), 35th minute: Arteaga sent in a quick shot off a cross by Onuorah for the lead. PHX 1, SD 0
PHX – Manuel Arteaga, 63rd minute: Arteaga put back a shot that was blocked by goalkeeper Koke Vegas. PHX 2, SD 0
SD – Nick Moon (Blake Bodily), 72nd minute: Moon reached a cross by Bodily and tapped it in for the score in front of the goal line. PHX 2, SD 1
SD – Ronaldo Damus, 80th minute: Damus rolled in a shot off a defender to tie the match. PHX 2, SD 2
Comments
comments