Seeman and Sato of SDSU capture Pacific Coast Men's Doubles Championship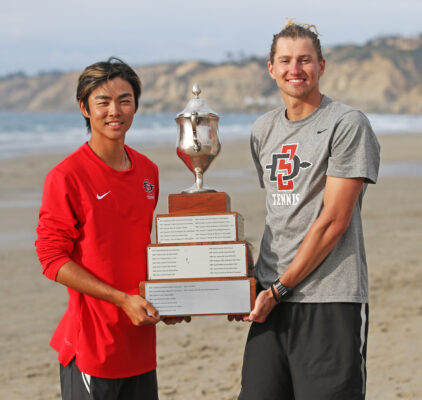 By SDCN Editor
La Jolla, CA–Hometown tennis fans had plenty to cheer about at the La Jolla Beach and Tennis Club as 17th-seeded Johannes Seeman and Chikaya Sato of San Diego State University scored a thrilling 7-6 (3), 6-3 victory over 17th-seeded William Gleason and Calvin Mueller of the University of Nebraska to win the 134th Annual Pacific Coast Men's Doubles Championship.
Seeman and Sato became the third SDSU Aztec doubles team to win the prestigious doubles title in the last 20 years. Ryan Redondo and Oliver Maiberger won the title for SDSU in 2003 and the Aztec duo of Achim Ceban and Benedikt Stronk won their championship in 2007.
With a large, vocal crowd supporting the local team on Court No. 1 for Sunday's final, Seeman and Sato took a 5-3 lead in the first set, but Gleason and Mueller fought back to take a 6-5 lead. Seeman then held serve in the 12th game to send the set to a deciding tie-break.
After falling behind 3-2 in the tiebreaker, Seeman and Sato rallied and won five straight points to win the opening set in 64 minutes as the crowd cheered loudly.
In the second set, both teams held serve through the first five games, but the Aztecs scored a critical service break in the sixth game when Seeman hit an unreturnable crosscourt forehand service return on break point to break Gleason's serve.
That was all Seeman and Sato needed as they went on to serve out the match to win the championship.
"It's a great feeling. This is one of the tournaments I wanted to win. I'm proud of the win and proud of my (doubles) partner. It was amazing with a home crowd. Everybody was cheering. The atmosphere helped us," Seeman said. "We stayed focused the whole tournament. We served well, returned well, and played aggressively at the net. Our energy was the key."
Sato also acknowledged the crowd for their support during the match. "It feels great to win it in front of the San Diego crowd. It was just a fun tournament," he said. "People didn't even know my name when this tournament started. Playing in front of the home crowd and my teammates and ultimately coming through with a win – it was a great moment."
Earlier in the day, Seeman and Sato eliminated second-seeded Daniel De Jonge and Tim Zeitvogel of Pepperdine University 6-4, 6-3 in semifinal action. Gleason and Mueller got past 17th-seeded Samir Banerjee and Filip Kolasinski of Stanford University 6-4, 6-3 in their semifinal match.
In the Consolation Final, ninth-seeded Ryan Colby and Karl Lee of USC edged the independent team of Robert Shelton and Pierre Boullenger 6-3, 5-7, 7-5.
Comments
comments