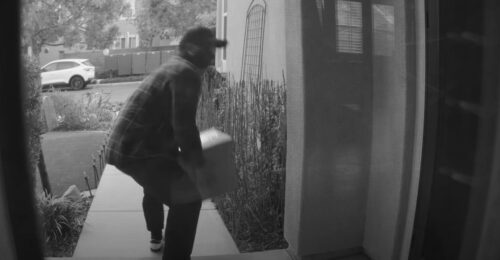 By SDCN Staff
San Diego, CA–The San Diego Sheriff's Department and District Attorney's Fraud Division are warning the public to be aware of holiday scams and residential theft during the holiday season.
Residents should lock their doors and windows at night and when they are away. They should never open doors to strangers. 
Consider installing a camera security system that photographs people who come to the door, and allows the person at home to communicate with the person without opening the door or being home.
To avoid residential burglaries, residents should place gifts where they cannot be seen from outside the home. And after opening presents, don't pile up empty gift boxes outside. This gives burglars a hint of expensive items in the home. Instead, fold the boxes and break them up flat inside the recycling bin.
Porch pirates case neighborhoods looking for an opportunity to steal delivered packages from the resident's front door. To prevent these thefts, residents can schedule package deliveries when they are going to be home, but if it is not possible, consider the following suggestions:
Leave special instructions to the delivery person to put the package in a backyard, or somewhere where it's not visible from the street.
Require that the delivery driver get a signature for the package (from a trusted neighbor).
Sign up for email or text message alerts with estimated delivery times.
Have the postal services or shipping service hold packages at their pick-up facility for later pickup in person.
If purchasing from a large retailer, request that the package be delivered to a local branch or store for pick it up in person.
Get to know the carriers. If there's been a problem of thefts in the past, tell them about it.
Insure packages.
Ask a neighbor or retired relative (who is home) if they will accept a package for you at their home.
Have the package delivered at the workplace, if it is permitted.
Buy a locking mailbox big enough for packages.
Online shopping is expected to increase this holiday season. Unfortunately, sophisticated scammers have set up fake websites and emails to steal consumers' personal information. 
To spot possible fake websites, check for the lock icon in the address bar, and make sure the address begins with https.
Consumers can protect themselves by using one credit card for all online purchases to avoid exposing other cards. 
Scammers are stealing business logos from legitimate businesses to fool consumers into clicking links. Never click on links from unsolicited emails. Instead, visit a legitimate website. 
All computers should use updated anti-virus protection when shopping online. Avoid using a public computer with open Wi-Fi for financial transactions. 
Do not trust sellers who ask you to pay with a wire transfer or prepaid debit card. These types of transactions are most likely illegitimate. 
Never email personal information to certain online businesses. Legitimate online marketplaces will not ask for personal information through email.
If buying or selling items online require you to meet in person at some point, make sure to meet in a public, well-lit space during normal business hours. Be careful of online deals that are too good to be true. They often are.
People often share their vacation plans with their followers on social media. Never share plans on these platforms. Criminals can use this information to burglarize homes while the owner is away. When going out of town, lock up the home and activate the alarm system. 
Don't let mail and newspapers pile up in mailboxes. This alerts burglars that the home is inhabited. Hold the delivery of mail and newspaper or ask a trusted friend to pick them up for you. Ask a neighbor to occasionally park in your driveway.
Sign up for a free vacation check by Sheriff's Senior Volunteer Patrol members who can keep an eye on the home. Visit sdsheriff.net/patrol for a Sheriff's Station and Substation near you.
If you see someone casing your alley or neighborhood, report suspicious activity to the Sheriff's non‐emergency line at (858) 565‐5200.
Comments
comments