Three teachers selected San Diego Unified School District's Teachers of the Year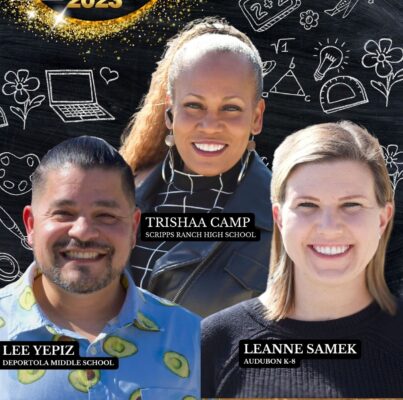 By SDCN Editor
San Diego, CA–Three local teachers were selected as San Diego Unified School District's Teachers of the Year.
Honored this year were Leann Samek from Audubon Elementary School, Lee Yepiz from DePortola Middle School, and Trishaa Camp from Scripps Ranch High School. 
Jillian Salazar from Tierrasanta Elementary School, Julie Rick from Marshall Middle School, and Laurisa Murray from Mira Mesa High School have been named this year's runners-up. 
In observance of National Teacher Appreciation Week, the six educators were honored at the Day of the Teacher celebration on May 9 during a ceremony hosted by FOX 5's Elizabeth Alvarez. More than 150 Teachers of the Year from individual schools were also honored. 
San Diego Unified encouraged the community to honor teachers by sharing a post, image, or video of a special educator in their life. The district challenged San Diegans to thank a teacher either in person, or on social media using the hashtag #ThankATeacherSD. 
"Every year in May, I am reminded of the immensely loving, caring, talented, and dedicated educators we employ within San Diego Unified. It never ceases to amaze me how fortunate we are to be the home of so many life-changing educators," said Superintendent Dr. Lamont  Jackson.
The celebration is recognized by the Board of Education every year. Board members and senior district staff, community leaders, and elected officials from the region take part in honoring the distinguished educators. The in-person ceremony featured original student-created content performed by students from the San Diego School of Creative and Performing Arts and Scripps Ranch High School. 
Teacher of the Year candidates go through a rigorous selection process, first being selected by the staff members at their school, then a panel including former Teachers of the Year.  San Diego Unified's teachers of the year and runners-up may advance to compete for San Diego County Teacher of the Year honors.   
"We are honored to co-host the 2023 San Diego Unified School District's Teacher of the Year program that provides well-deserved recognition to these exceptional educators," said North Island Credit Union President and CEO Steve O'Connell. "Serving the education community for 90 years, we understand the unfailing commitment and dedication our teachers bring to their classrooms and their students. We are deeply grateful to our teachers for everything they do, every day, to make a lasting difference in a child's life."
This year's event was co-hosted by North Island Credit Union. 
Comments
comments