Traumatic brain injury survivor brings healing to others with therapeutic art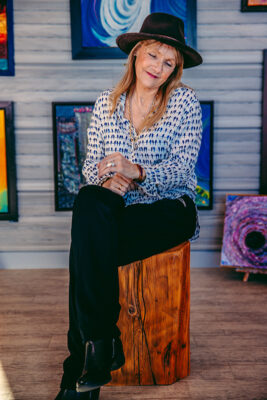 By SDCN Editor
San Diego, CA–Just A Breath Away Foundation, a Fallbrook-based nonprofit organization,  announced a fundraising campaign to benefit Sharp HealthCare Foundation's Arts for Healing program, which brings arts-based experiences free of charge to Sharp Metropolitan Medical Campus patients in San Diego County to ease stress and promote healing. 
Just A Breath Away Foundation founders Kathleen and Galen Newhouse are calling on the community to donate to their organization to help bring hope and peace through therapeutic arts engagement to people hospitalized due to traumatic brain injury and other catastrophic illnesses. Donations can be made by purchasing artwork on Kathleen's Etsy store, as well as through the organization's website at justabreathaway.org.
Depending on the amount donated, supporters will have an opportunity to select a piece of custom artwork created by Kathleen, who is a survivor of a severe traumatic brain injury. In addition to custom artwork, donors will also receive a digital copy of Kathleen's book "Just a Breath Away: Streams of Thought from a Severe Traumatic Brain Injury Survivor," which tells more of her story and brain injury experience. All proceeds go directly to the Just A Breath Away Foundation, which the organization will give to the Arts for Healing program in 2023.
For the Newhouse family, the cause is personal. Kathleen suffered the injury in 2006 while on vacation with her family in Mexico. Her husband, Galen, and children returned to the home where they were staying to discover Kathleen in excruciating pain. After being transported back to the U.S. to undergo emergency surgery, it was discovered that Kathleen had suffered a major rupture of an abscess in her brain.
When Kathleen eventually awoke from a medically-induced coma, a language made no sense, and the reality of the dark, lonely world she now found herself in made her question her will to survive. Doctors told her family she had been "just a breath away" from death but miraculously survived.
In early 2007, Kathleen was given the opportunity to move to a physical rehabilitation center, and ultimately decided on San Diego's Sharp Allison deRose Rehabilitation Center at SMMC, which supported her greatly on her road to recovery. "I was incredibly thankful to find Sharp HealthCare during the next steps of my recovery period," says Kathleen, president and founder, of Just A Breath Away Foundation. "With the hospital's well-respected program, a specialized brain injury department, and top-notch therapy equipment, it was an easy decision to select the Sharp team. I'm overjoyed to now give back to the program that supported me through such a difficult time of transition."
In her recovery, Kathleen began having strange visions, always with the same magnificent colors. In an effort to release the overwhelming and brilliant images filling her mind, Kathleen began painting every day, which is a skill that she did not have previous to her injury. Her art studio in Fallbrook is now filled with dozens of paintings, creating a platform of hope for others living with severe traumatic brain-related injuries. 
"When I first started painting after I came back into this life, I painted what I remembered seeing while I was in a coma. The colors were breathtaking; they enveloped me and I felt at peace," says Kathleen. "Although I was at peace, I woke up from my coma with the mission to help other TBI survivors who don't get to live normally like other people do. The way I can help other miracle survivors is through the healing power of painting."
In 2017, Kathleen and Galen established Just A Breath Away Foundation to support TBI patients, from post-rehabilitation survivors to families of severe traumatic brain injury, through the gift of donation through Kathleen's art collection. 
Since its founding in 2017, Just A Breath Away Foundation has donated 100% of the funds it raises to helping survivors of traumatic brain injury. To date, the foundation has contributed more than $50,000 to the Sharp HealthCare Foundation's Arts for Healing program. Additional contributions to the program are planned for 2023.
"Engaging in creative expression and art making can positively shift our overall well-being and is a powerful vehicle for self-reflection," says Amy Andrews, coordinator of Sharp HealthCare Foundation's Arts for Healing program. "We are inspired by and deeply grateful to the Newhouse family for harvesting the gifts of Kathleen's recovery in service of other individuals and families facing the impacts of TBI."
Over 5.3 million Americans are living with severe traumatic brain injury. They believe in providing a platform for hope, a voice for survivors, and a catalyst for change in the healthcare community. As a 501(c)(3) non-profit, Just A Breath Away Foundation relies on the generosity of our Circle of Hope community and sales from the beautiful artwork created by severe traumatic brain injury survivor and founder Kathleen Newhouse to give back to those survivors and their families. 
To learn more, visit justabreathaway.org.
Comments
comments