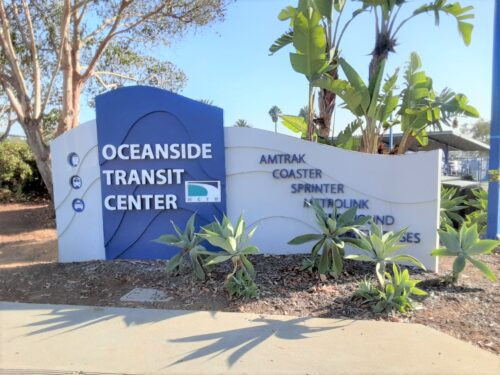 By SDCN Editor
Oceanside, CA–In response to anticipated impacts related to Tropical Storm Hilary, the North County Transit District (NCTD) is reducing service on all modes starting Sunday morning. 
NCTD's primary objective in reducing service is to ensure the safety of its customers and personnel and to protect the district's assets.
In addition to limiting service, NCTD is providing mutual aid to Amtrak and Metrolink passengers by allowing them to ride any Coaster train on Sunday. Amtrak and Metrolink have both reduced their service for Sunday in San Diego County.
The Coaster schedule will be reduced to four round trips between Oceanside and Santa Fe Depot. 
The schedules for southbound departures from Oceanside Transit Center are 8:16 a.m.,11:16 a.m., 2:16 p.m., and 5:16 p.m.
The northbound departures from Santa Fe Depot are 9:40 a.m., 12:40 p.m., 3:40 p.m., and 7:20 p.m.
The Sprinter schedule will be limited to hourly service instead of every 30 minutes and trips departing at 4:33 a.m. and 5:33 a.m. will be canceled. Sprinter trains will operate the first trips of the day leaving Oceanside Transit Center and the Escondido Transit Center at 6:33 a.m. At :33 past the hour every hour trains will depart from Oceanside and Escondido.
Breeze schedule routes 302, 303, 305, 350, 351, 352, and 356 will operate on an hourly frequency. Routes 353 and 354 will operate every 2 hours. 
Routes 309, 332, 334, and 355/357 will remain the same. Routes 101, 306, 308, 315/325, 388 FLEX routes 392 and 395 will be canceled.
If conditions deteriorate, further reductions and possible cancellations of service may occur. 
For specific questions related to trip planning, call NCTD Customer Service at (760) 966-6500. The Call Center is open from 8 a.m. to 5 p.m. on Saturday and Sunday. Passengers can also get the latest service information on Twitter @NCTD_Alerts or at GoNCTD.com