SANDAG Youth Opportunity Pass hits milestone with 5 million rides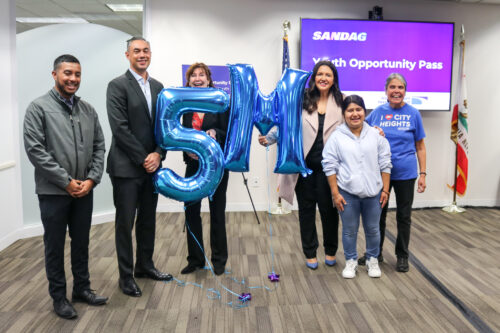 By SDCN Editor
San Diego, CA–Following the SANDAG Board of Directors meeting on Friday, leaders from SANDAG, Metropolitan Transit System, North County Transit District, and the County of San Diego gathered to celebrate the significant milestone of recording more than five million youth rides since the Youth Opportunity Pass program began in May 2022.
The number of estimated unique youth riders taking transit at least once a month has tripled since April 2022, and more than 40,000 Youth PRONTO cards have been distributed in partnership with schools and community organizations across the county.
During Friday's press conference, SANDAG and San Diego County Chairwoman Nora Vargas expressed the importance of making a commitment to funding the extension of the SANDAG Youth Opportunity Pass pilot program indefinitely.
"The Youth Opportunity Pass is not just a free ride; it brings security and stability to the lives of students and youth and removes barriers so they can have access to education, work, and recreational activities that they would not have otherwise," said Chairwoman Vargas. "Surpassing five million youth transit rides is a huge feat and proof of the success of this initiative. I will continue to advocate, and as I mentioned in the State of the County Address earlier this month, I'm fully committed to the expansion of this program to 24 and under."
The SANDAG Youth Opportunity Pass is one of many programs in the SANDAG Regional Plan, which aims to advance equity, help eliminate disparities in the region and improve the quality of life for historically underserved and underrepresented communities. 
"Today we are celebrating a big step toward transportation equity, thanks to years of community advocacy and the excellent interagency collaboration in our region," said SANDAG Vice Chair and San Diego City Council President Sean Elo-Rivera. "By extending this historic program, we are expanding opportunity for San Diego's young people and encouraging a lifetime of more sustainable and less expensive transportation habits."
The pass gives young people aged 18 and under access to unlimited free rides on the bus, Trolley, Coaster, and Sprinter with a Youth PRONTO account.
Preliminary survey results from young riders show 79% of youth plan to keep using public transit as adults, and 77% said that riding public transit feels safer than their previous travel methods.
"Working families with kids are benefiting from the Youth Opportunity Pass pilot program," said MTS Board Chair and San Diego County Supervisor Nathan Fletcher. "In just ten months MTS has been able to help youth get to school, practices, extracurricular activities, and their jobs. Keeping youth riders engaged with transit will help us continue building ridership for the future. I appreciate SANDAG's commitment to working with MTS and NCTD to provide this service for young people."
SANDAG and its partner agencies are continuing to seek funding to make the Youth Opportunity Pass program permanent and to expand it to young adults aged 24 and under.
"Now that we have the Youth Opportunity Pass, I have seen many young people have access to more doors of opportunity," said Denisse Lopez, Mid-City CAN Improving Transportation in City Heights team member. "My friends use it to go to internships, to get to school, to explore parts of San Diego that we've never seen, like touring college campuses. And now we and our families have more money for other things, like paying for rent and the electric bill since it's been increasing so badly."
The Youth Opportunity Pass pilot program is funded by $6.13 million from SANDAG and $1.5 million from the County of San Diego.
To learn more about the Youth Opportunity Pass pilot program and where to pick up a free youth PRONTO card, visit SANDAG.org/YOP.
Comments
comments